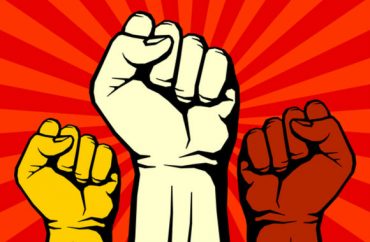 'Cultivate the next generation of racial justice changemakers' 
The Gerald R. Ford School of Public Policy at the University of Michigan launched a "Center for Racial Justice" this semester that plans to teach students how to engage in activism with an eye toward "Black, Native and Indigenous, Latinx, and Asian American and Pacific Islander peoples."
The center, on its website, pledges to "uncover the voices of the unjustly silenced" and "offer sound policy prescriptions for a more equitable and just society" through speaking engagements, classes for students, and funding for research and other initiatives.
The center purports to combine research and activism by inviting speakers who focus on topics including economics, sociology, African American studies, and poverty and inequality in a series called "Racial Foundations of Public Policy."
Rick Fitzgerald, University of Michigan's spokesman, told The College Fix the center will expand on the campus' commitment to scholarly discourse.
"Like the university more broadly, the Ford School is committed to and has practices in place that lend to building a diverse and inclusive scholarly environment," he said via email.
Besides speaking events, the center has scheduled a "Masterclass in Activism." The final goal of the center is to "cultivate the next generation of racial justice changemakers" in order to devise racially equitable policy prescriptions.
The center has come under scrutiny by some who consider it biased. University of Michigan student Charles Hilu wrote a piece in National Review that criticized the center as a venue toward producing more divisive left-wing activism.
"[C]ut through the buzzwords and you'll find that the new center seems geared toward incentivizing political activism in the people it teaches," wrote Hilu, citing the Masterclass in Activism as one example.
He also cited the center's plan to launch a Racial Justice Student Initiative Fund, that will give money to support student-led racial justice initiatives for "Black, Native and Indigenous, Latinx, and Asian American and Pacific Islander peoples."
"There might be value in this center if its aim were to help produce educated thinkers able to balance multiple different perspectives on issues involving race," argued Hilo.*
"Instead, its goal seems to be to train activists animated by disdain for this country. Activists who would tear down the freedoms and institutions that make our country great — and capable of becoming greater — by empowering the central government at their expense, all in the name of a perverted view of equity and justice."
Responding to accusations that the Center for Racial Justice is politically biased, Fitzgerald commented that "the speaker lineup is not static and diversity of thought is a consideration among a number of factors as the center continues to extend invitations."
But he said the university's "dedication to academic excellence for the public good is inseparable from our commitment to diversity, equity, and inclusion."
The Ford School's associate dean for academic affairs, Celeste Watkins, likewise said in a news release that "we believe in the power of public policy to help address the societal problems that we face."
To this end, Dean Michael Barr said the center will "advance the vitally important cause of bringing racial justice to our policy structures."
The center's plans update frequently.
It recently announced a "Policy Research Fund" to explore public policy through the "lens of race and interrelated axes of power and difference."
*Editor's note: Charles Hilo also contributes to The College Fix.
IMAGE: Micro One / Shutterstock
Like The College Fix on Facebook / Follow us on Twitter