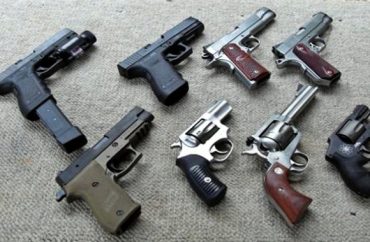 A recent investigation by National Public Radio is raising more than a few eyebrows as it reports the actual number of school shootings is way off — by more than two-thirds.
Earlier this year the federal Department of Education reported that the 2015-2016 school year played host to "nearly 240 schools [that] reported at least 1 incident involving a school-related shooting."
Over the course of three months, NPR reporters contacted every one of the schools noted in the DOE report … and discovered over 66 percent either did not happen or could not be confirmed.
In fact, only eleven incidents could be validated "either directly with schools or through media reports." A separate survey by the ACLU of Southern California yielded similar results.
Twenty-five percent of schools did not respond to NPR's outreach.
The federal government said schools reported 235 shootings in one school year.

But an NPR investigation finds that more than two-thirds of these reported incidents never happened. https://t.co/5AxSOK20fG pic.twitter.com/VHtBN28wQ6

— NPR Politics (@nprpolitics) August 28, 2018
The DOE's data comes from a biennial survey via its Office for Civil Rights. The "Firearm Use" question was asked for the first time in the most recent survey.
In the 2015-2016 school year, "Has there been at least one incident at your school that involved a shooting (regardless of whether anyone was hurt)?" …

The government's definition included any discharge of a weapon at school-sponsored events or on school buses. Even so, that would be a rate of shootings, and a level of violence, much higher than anyone else had ever found.

For comparison, the Everytown for Gun Safety database, citing media reports, listed just 29 shootings at K-12 schools between mid-August 2015 and June 2016. There is little overlap between this list and the government's, with only seven schools appearing on both. …

Most of the school leaders NPR reached had little idea of how shootings got recorded for their schools.

For example, the [Civil Rights Data Collection] reports 26 shootings within the Ventura Unified School District in Southern California.

"I think someone pushed the wrong button," said Jeff Davis, an assistant superintendent there. The outgoing superintendent, Joe Richards, "has been here for almost 30 years and he doesn't remember any shooting," Davis added. "We are in this weird vortex of what's on this screen and what reality is." …

The Education Department's Office for Civil Rights received complaints about the wording and administration of this survey even before it went out.

A June 2014 research report commissioned to improve the CRDC as a whole noted that in previous data collections, districts had experienced "unacceptable levels of reporting burden." They complained that the CRDC asks them to report information that is similar to what states already collect, but in a different format, or at a level of specificity that they don't currently track.

Also at issue, the internal report says, was a "lack of clarity in the definitions of key terms." When it came to "Offenses," the group of questions including firearm use, districts "indicated dissatisfaction with the categories provided, specifically that the CRDC categories did not align with the categories used in state reporting, other federal reporting, and/or their own district databases."
Deborah Temkin, a researcher and program director at Child Trends says that aside from the fact the "shooting" had never been asked previously, some of the confusion could be attributed to the survey's wording. For example, though the new question unambiguously asks about a shooting, previous questions inquired about "a firearm or explosive device" while others "a weapon."
Another interesting factoid: The 240 schools figure is less than half of one percent of the total number of schools in the survey. "It's in the margin of error," Temkin notes.
h/t to Twitchy
MORE: CNN goads students into calling the NRA 'child murderers'
MORE: Arne Duncan: Boycott school until gun legislation is passed
IMAGE: Joshua Shearn.WMC/Flickr.com
Like The College Fix on Facebook / Follow us on Twitter