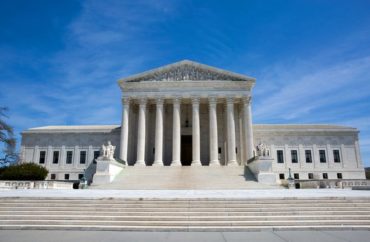 Changing a policy should not end a lawsuit, argues Alliance Defending Freedom
The Supreme Court voted on Thursday to hear a case which could make it easier for students to sue their schools even after they have graduated.
The case, Uzuegbunam v. Preczewski, hinges on whether universities can beat lawsuits by simply changing policies or waiting out the graduation of plaintiffs.
In July 2016, Chike Uzuegbunam wanted to share his Christian beliefs on campus, but the college stopped him because he was outside one of the two approved free-speech zones.
Alliance Defending Freedom, which represents Uzuegbunam, argues the free-speech zones represent about 0.0015 percent of the total area of the campus. Even after the school granted him permission to pass out materials on campus, its campus police department stopped him in August 2016.
The Supreme Court is not hearing a challenge to the free-speech zones themselves, but rather a challenge to an Eleventh Circuit ruling that found that Uzuegbunam's nominal damages claims were not enough to sustain the lawsuit.
Nominal damages refers to damages, such as a violation of Constitutional rights, which are not necessarily quantifiable or monetary in nature.
Gwinnett College changed its policies soon after the lawsuit was first filed in December 2016.
In its amicus brief, the Foundation for Individual Rights in Education explains why students must be able to sue even when policies have been changed.
The free-speech advocacy group argues that students have four or fewer years in school, but "the median length of time for resolution of a civil case in federal district court is between 10.8 and 27.8 months … the most outspoken and politically active students tend to be juniors and seniors." This means that the timeline for seeking redress is too short; schools know they can wait out a student's graduation to defeat a lawsuit.
The university, represented by Georgia's attorney general, argues that they have sufficiently addressed Uzuegbunam's complaints by "unambiguously and permanently overhaul[ing] the speech policy" and eliminating the problematic portions of the conduct policy.
Circuit courts are split on whether nominal-damage claims can proceed after a policy is changed. Six circuit courts have ruled the claims can proceed, while two have said the claims are moot as long as the original policy was never enforced against plaintiffs, according to the writ of certiorari filed with the Supreme Court.
The Eleventh Circuit is the only one so far to rule "government officials are never liable for violating constitutional rights if they change their policy after being sued," according to the writ.
A wide-array of groups have filed amicus briefs in support of Uzuegbunam, including the Islam and Religious Freedom Action Team, the American Humanist Association, and Young Americans for Liberty.
MORE: Free speech group continues to defend First Amendment rights on campus via the courts
IMAGE: Steven Frame/Shutterstock
Like The College Fix on Facebook / Follow us on Twitter