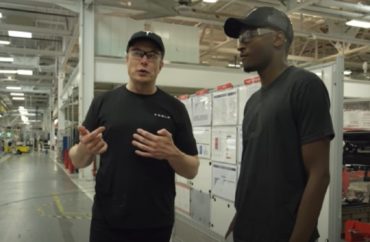 No four-year degree needed to work at Austin Gigafactory
Car company Tesla has plans to create jobs in Austin, Texas — and many of those opportunities will not require college degrees.
The company has already started to work with local high schools and community colleges to create a pipeline of workers.
"You do not have to have a college degree to work for Tesla," Tesla Owners of Austin tweeted recently. "You can work for Tesla straight out of high school," the group tweeted, with a screenshot of comments that a company human resources director made in March.
"We have opportunities for entry level roles," employee recruitment director Chris Reilly said, "for individuals that are coming from outside manufacturing that have that passion, have that drive, and want to come make a difference."
Over 10,000 people are needed for Giga Texas just through 2022!
– 5 mins from airport
-15 mins from downtown
– Right on Colorado river https://t.co/w454iXedxB

— Elon Musk (@elonmusk) March 31, 2021
Tesla CEO Elon Musk quote tweeted and said "Over 10,000 people are needed for Giga Texas just through 2022!" though there are currently about 300 jobs listed for Austin.
The new facility creates opportunities for local students to get hired without taking on the debt of a four-year college degree.
Del Valle High School's career education program "will be a major part of preparing students for employment at Tesla," Alex Torrez, a spokesperson for the Del Valle Independent School District, told The College Fix via email.
Torrez said the school has an "extensive" curriculum in engineering, robotics, manufacturing and "other aligned courses and certification opportunities."
"The Tesla specific skills will be aligned in the aligned [Career and Technical Education] curriculum pathways," Torrez said.
Austin Community College also will work with Tesla, although a spokesperson did not provide many details. The group has a number of associate degrees and certificates in manufacturing and related skills.
The community college is "ready to support this work and ensure that Austin-area residents are equipped with the skills they need to be successful," spokesperson Jessica Vess told The Fix via email.
"When business and education come together, we build connections that create pathways for opportunity," Richard Rhodes, the president of the college, said in July 2020 in a news release.
Tesla's general media contact did not respond to The Fix's April 14 and 22 email request asking why they no longer require college degrees and about specifics of their relationships with these schools.
Tesla's START program is an established "intensive training program designed to provide students across North America with the skills necessary for a successful career with Tesla."
Partners with HBCU
Tesla has also built relationships with the University of Texas at Austin and Huston-Tillotson University.
However, media contacts for both universities did not respond to an April 20 email request asking what their relationship with Tesla entails.
Officials with Huston-Tillotson, a historically black college with Methodist roots, met with Tesla executives to work on a partnership.
The university leadership, "truly believes that Tesla's new Gigafactory will undeniably transform our Austin community and impact so many of our lives for the better."
"The leadership teams from HT and Tesla met to discuss our business, pre-engineering, mathematics, and computer science academic programs," according to an announcement from the university.
MORE: Vocation program shows college degree not the only path to success
IMAGE: Marques Brownlee/YouTube
Like The College Fix on Facebook / Follow us on Twitter