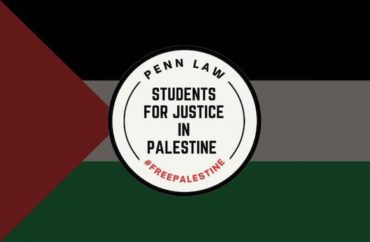 A new University of Pennsylvania Law School student group wants school-sponsored trips to Israel canceled due to the country's alleged human rights abuses.
Penn Law Students for Justice in Palestine also claims one particular trip, itrek, essentially brainwashes students into becoming pro-Israel.
According to a July 2 statement from the group, itrek was founded by a former official of the Israeli government, gets funding from that government and "targets its programming at students at elite law, business, and policy schools" — so students will "carry their [favorable] impressions  forward into their professional and personal lives."
"While the organizers of these trips are savvy enough to provide a semblance of balance, for example by including a meeting with a Palestinian professor or a visit to Ramallah, such activities do not negate the trips' fundamental purpose," the statement reads. "This approach is consistent with a strategy advanced by right-wing billionaire Sheldon Adelson, which aims to appeal to 'progressive,' 'social justice oriented' students by promoting a pro-Israel message while avoiding overt propaganda.
"Moreover, the few encounters that you may have with Palestinians fail to give you a sense of what life is actually like for most Palestinians."
The concern for "balance" doesn't exactly extend to the PLSJP statement as it provides a one-sided account of the region's history. Indeed, PLSJP Co-President Tasneem Warwani doesn't think there are other points of view on the Israeli-Palestinian conflict, telling The Daily Pennsylvanian "When you have situations of oppression and apartheid, you don't have two equal sides."
Warwani said it would be "irresponsible, unethical, and immoral" for students to go on what is "essentially a vacation and to enjoy yourself" while "a few miles down the road" Palestinians are living as refugees.
PLSJP says it also will support other "social justice" movements including Black Lives Matter, Indigenous rights and even their "Jewish brothers and sisters as they fight against antisemitism."
Read the PLSJP statement and D.P. article.
MORE: Rutgers hosts professor who compared Israel supporters to rodents
MORE: 'Culturally Responsive Committee' urges teachers to use anti-Israel terminology
IMAGE: Billy Penn / Twitter screencap
Like The College Fix on Facebook / Follow us on Twitter