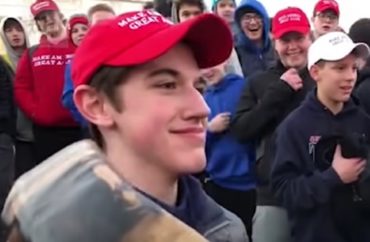 'I am about the only person our age to have an idea of how the media is treating you'
A teenager who faced the media mob criticized the "public execution" Kyle Rittenhouse is facing as his trial in Kenosha, Wisconsin nears a verdict.
"From my own experience, I know that this cannot be easy for Kyle," Nick Sandmann wrote in an opinion piece at the Daily Mail. "While I have waited to comment on the facts of Kyle's case until the trial ends. I cannot hold back on the media's public execution of him before the trial has concluded."
Sandmann's piece drew parallels between Rittenhouse's trial for the killing last year of two people during violent Black Lives Matter riots in Kenosha, Wisconsin and the way the media treated Sandmann in 2019.
The media quickly ran with a story that Sandmann, then a student at Covington Catholic High School, harassed an elderly Vietnam veteran who was celebrating his Native American heritage, a claim that fell apart upon further investigation.
"At this time I would like to use my platform to let Kyle know that I am here for you and if you ever would like to reach out to me, I am about the only person our age to have an idea of how the media is treating you," Sandmann said. "The way the media has treated you is terrible, and you don't have to face it alone."
He said Rittenhouse should consider a defamation lawsuit for the media's persistent and false claim that he crossed state lines with a weapon.
Sandmann, who has entered into a number of defamation lawsuits and settled with some outlets including CNN and the Washington Post gave some advice to the Illinois teen. If he has the ability to go through further trials "give it a shot and hold the media accountable," Sandmann said.
Rittenhouse said he acted in self-defense when he shot three people, killing two. One legal observer and law professor said the prosecution's case collapsed.
"Things are not going well for the prosecution," Professor Jonathan Turley wrote on November 15. Turley is a law professor at George Washington University as well as a criminal defense attorney.
He said the prosecutors "prompted its own witnesses to create layers of doubt in the case."
"In doing so, it seems to have reduced the range of possibilities to somewhere between a hung jury and outright acquittal on the major charges," Turley said.
A verdict could be released today.
MORE: Temple professor upset Rittenhouse judge's ringtone is patriotic song
IMAGE: KayaTaitano/Storyful
Like The College Fix on Facebook / Follow us on Twitter