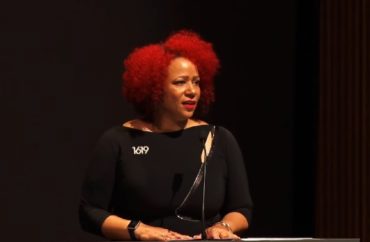 The journalist had refused to fulfill her contractual obligation unless she was immediately granted tenure
Nikole Hannah-Jones announced this morning that she will not be accepting a tenure offer from the University of North Carolina at Chapel Hill.
Instead, the creator of the "1619 Project" will start at Howard University as a professor.
The announcement comes just days after the board of trustees at Chapel Hill voted to grant her tenure. Hannah-Jones had previously accepted a five-year contract with a tenure review at the end of her agreement.
She later reversed her acceptance of the offer and said she would refuse to start her job until the board gave her tenure immediately.
"I've decided to decline the offer of tenure," Hannah-Jones told "CBS This Morning."
"Instead I'm going to be the inaugural Knight Chair in Race and Journalism at Howard University," she said.
When pressed on why she refused tenure after making so much noise about it, the New York Times journalist said that the history of past Knight chairs getting tenure led to her decision.
"I went through the tenure process and I receive the unanimous approval of the faculty," the journalist said. But the process of having to threaten legal action and waiting on the trustees to meet at the last minute before her July 1 start date changed her mind.
An assistant professor at UNC praised Hannah-Jones for reversing on her demands for a second time.
"I support @nhannahjones decision to take her gifts and talents to Howard U instead of beginning with the UNC Hussman School of Journalism," Professor Khalilah Johnson tweeted. "Until @UNC officials (at all levels) do right by our faculty, staff, and students, this will continue to be the outcome."
"I will continue to support your efforts," the journalist said in response. "Still a #tarheel."
MORE: NHJ does not have an inherent right to tenure
IMAGE: NYTimesEvents/YouTube
Like The College Fix on Facebook / Follow us on Twitter