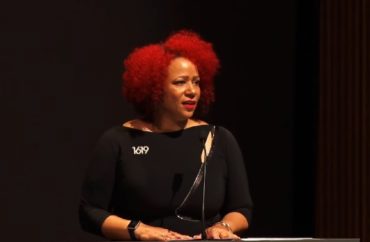 MADISON, Wis. — Speaking at the University of Wisconsin on Tuesday, author and Howard University Professor Nikole Hannah-Jones said that modern conservatives have misinterpreted and "whitewashed" the words of Martin Luther King Jr. in order to use his words to their benefit.
Her speech was delivered as part of the school's Martin Luther King Jr. Symposium, an annual event which asks its keynote speaker to "provide their reflections on the legacy of MLK and to discuss how their work or experience connects to this," according to the event's website.
"The speaker was paid $55,000, consistent with past speakers for this event, from private funding sources; no public funds were used," spokesperson Meredith McGlone told The College Fix via email.
The public university's Student Affairs and its diversity office hosted the event in the student union. People who want to watch her speech again will have trouble doing so due to press and recording restrictions.
"Sharing or recording of the broadcast is strictly prohibited," the university said in an email to participants. The only way to watch the $55,000 speech was to attend in person or watch the livestream.
Hannah-Jones is the author of the "1619 Project," a widely criticized New York Times initiative which claimed the first American settlers wanted a new country to protect slavery. Hannah-Jones has also said that the American Revolution was fought to preserve slavery. The project has warranted criticism from Republican lawmakers who see the teaching of it in schools as divisive.
The symposium began with a performance of "Lift Every Voice and Sing," a song acknowledged by the event's presenters as the "Black National Anthem."
Following the performance, Chancellor Rebecca Blank offered remarks on the history of Martin Luther King Jr. at the school, highlighting two past occasions in which the civil rights activist spoke at the university.
Also speaking at the event was Deputy Vice Chancellor for Diversity and Inclusion LaVar Charleston, who noted that members of the audience should prepare to become comfortable with uncomfortable conversation, referring to discussions surrounding antiracism.
"We must learn to get comfortable with the uncomfortable and then take action. That is how progress happens," he said.
Charleston then introduced Hannah-Jones, who took the stage to applause. She began by acknowledging Wisconsin's indoor masking restrictions, expressing her regret that it was "against the law" to remove her mask to deliver her address.
She continued by warning the audience that she would not give them "the typical Martin Luther King Jr. speech," noting how Americans have created a falsified and whitewashed narrative surrounding King in the years since his death.
Highlighting an example, Hannah-Jones described conservatives as major factors behind this phenomenon.
"As we sit in this room today, conservatives across the country, including in your own state legislature, are invoking King's name to pass anti-history laws that will make it impossible to learn about the real Dr. King and the racism in society that he died fighting against," she said.
She criticized Florida Governor Ron DeSantis for quoting from King's "I Have a Dream" speech while discussing a new piece of legislation. DeSantis' proposed "Stop Woke Act," which would limit critical race theory training, is a prime example of conservatives whitewashing King, according to Hannah-Jones.
"The names of these laws are so ridiculous I can't even hardly say them out loud. What does that even mean?" she asked, inviting laughter from the audience.
Hannah-Jones closed her delivery by posing a dichotomy to the audience, urging them to "pick a side" in the fight against inequality. She also called on "white liberals" to give black people justice and action rather than just their sympathetic support.
MORE: Hannah-Jones says parents shouldn't determine curriculum
IMAGE: NYTimesEvents/YouTube
Like The College Fix on Facebook / Follow us on Twitter