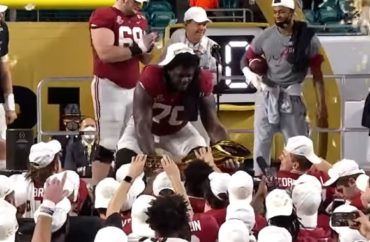 But there is likely a market cap on what companies will pay for an endorsement
A sports law professor said that college athletes could make an unlimited amount of money from their name, image and likeness.
The recent Supreme Court ruling helps students who want to profit off endorsement deals by preventing the NCAA from implementing restrictions on athlete income.
"There's not any limit in any state regarding how much college athletes can receive for licensing their NIL rights," Professor Matthew Mitten told The College Fix in a phone interview. "It's determined by the fair market value of the deal."
Mitten directs the Sports Law Institute at Marquette University. He shared with The Fix the advice he would give higher education institutions on how they can advise student-athletes.
The professor at the Catholic university in Milwaukee suggested it was a good idea that universities and colleges provide education and assistance to student-athletes about endorsement deals.
University officials should "educate athletes now about a variety of things, including that the income received from NIL rights is taxable." He said "they should be cautioned against providing perpetual NIL rights or exclusive rights to licensees unless the athlete is receiving substantial compensation."
Mitten said that "schools are prohibited from serving as a middleman for NIL rights deals."
Universities should be careful about how they communicate about compensation
When questioned about whether or not fair market value could propel lawsuits from athletes who feel as though they're not being properly compensated, Mitten said it would only be considered an antitrust violation if multiple schools got together and said they wouldn't pay more than, say, $5,000, even for students who's NIL rights are above that price.
"The market will determine fair market value," Mitten said. "Take a grocery store, for example. If it wanted to use a star college quarterback's NIL rights in connection with the advertising of its store and have him make some personal appearances and sign autographs, it might offer $5,000-10,000, which would probably be in line with fair market value."
"But if it pays, let's say, $100,000, that is probably above the fair market value of such a deal," Mitten said. "To determine a college athlete's actual fair market value for an NIL rights deal, you might compare it to what an NFL quarterback would be offered for the use of his NIL rights."
Some schools have prepped for this opportunity
Even before the recent SCOTUS ruling, some schools had started working with athletes to gain endorsement deals.
Indiana University-Bloomington's athletic department began a collaboration with Opendorse Ready to help its athletes secure endorsement deals, according to the Indiana Daily Student.
"Opendorse has previously worked with more than 100 professional and collegiate sports teams, including IU Athletics, in sports marketing and social media," the campus paper reported. Two former University of Nebraska football players started the company in 2012.
The company did not answer three separate phone calls in the past several weeks.
MORE: NCAA says colleges should let men who identify as women use female locker rooms
IMAGE: ESPN College Football/YouTube
Like The College Fix on Facebook / Follow us on Twitter