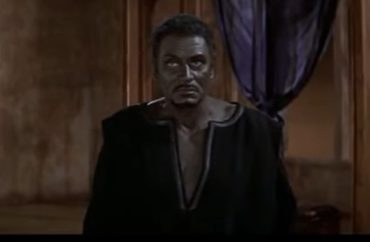 Sheng stepped down from courses this semester
A music professor who showed a 1965 movie version of Shakespeare's "Othello" has not had further sanctions imposed on him according to his employer.
Sheng stepped down from teaching courses this semester in late September after criticism of an apology he sent out for showing the movie, which involves a white actor (right) wearing dark makeup to play the part of Othello, a Moor.
"No sanctions have been imposed on him," the University of Michigan said in a November 3 statement. Professor Sheng "continues to teach composition lessons this semester" and "is scheduled to teach a regular course load during the upcoming winter term."
The public university's statement said it supports academic freedom but said the movie depicted racially offensive content.
The Big Ten school's statement said:
The depiction of a white actor in blackface is deeply offensive. Such imagery must include proper context and be presented with care and sensitivity. While disturbing, such content from theatrical, cinematic and American history, as well as from other contexts, provides teachable moments to address complex issues and to deepen understandings.
The university previously said its civil rights office had dropped the investigation into Sheng.
The composition professor received support from faculty and student in a recent open letter.
"The assertion of creating an unsafe environment is used to silence, intimidate, and to justify administrative sanctions," an open letter from more than 700 professor on October 21 said. "While claiming safe space for themselves, Professor Sheng's detractors deprive him of it and are willing to go as far as to disrupt his livelihood and teaching process."
The next steps are further discussions about academic freedom and pedagogy.
The School of Music, Theatre & Dance "will host a series of facilitated conversations to help community members better understand the different perspectives involved in this particular instance and Professor Sheng has said he would welcome an opportunity to meet with students in the seminar," the university's statement said.
MORE: Our new cancel culture database
IMAGE: BHEFilms/YouTube
Like The College Fix on Facebook / Follow us on Twitter