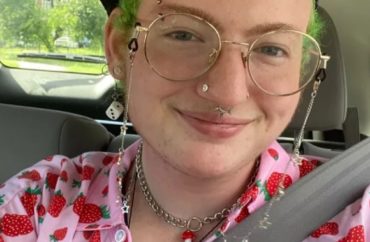 Two-thirds of students are 'female-bodied' student says
A student at Loyola University New Orleans wants to see the board of trustees have fewer Catholics and more "gender nonconforming people."
"Over half of the university's students are from marginalized populations and nearly two-thirds are female bodied," writes "Artie Bennett" the opinion editor for the Loyola Maroon.
Bennett (right) is a troubled and confused female, who believes herself to be "non-binary" and "trans." She is fundraising money for surgery to look more like a man.
"The experiences of women, gender nonconforming people, and people of color in college are different than that of cisgender White men," Bennett said. "It's difficult for us to place trust in the people who represent the systems that limit us."
The opinion editor takes issue with the presence of so many men and Catholics on the board of the Catholic university.
"At the top of the board is the Jesuit council, eight of Loyola's Jesuit priests. Because Jesuits, by rule of the church, can only be men, the top positions of the board are, you guessed it, White men," Bennett writes. "These eight men have the power to overrule the remaining 26 members and vote to dissolve the board."
The eight men have power to do that, to hazard a guess, because the structure of the board is to ensure it remains in control of the Jesuit order that established it and not to let secular laity seize it.
Bennett wants "to see the university advocate for more people of color, women, and gender nonconforming people on the board."
The opinion editor calls for a board that "has a gender and racial breakdown that's similar to that of the students."
The editorial has one more complaint — the board members are old.
"We won't accept being represented by mostly White men who haven't experienced university life in 50 years," Bennett writes. "They represent a Loyola of the past, and we deserve a board that prioritizes the future."
Some might call that ageism. A few more thoughts.
One, the entire board should be Catholic since it's a Catholic university.
Two, the purpose of a board of trustees is to bring experience and connections in business and leadership to an institution to help it grow academically and financially.
It makes sense to have older people on a board of trustees with backgrounds in politics or business or leadership.
It does not make sense to feed someone's delusion about changing genders nor to elevate them to positions of power because of it.
MORE: Check out the cancel culture database
IMAGE: Artie Bennett/GoFundMe
Like The College Fix on Facebook / Follow us on Twitter