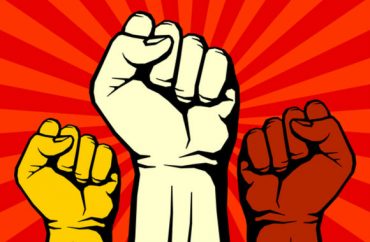 A Wisconsin advocacy group is taking what a local paper dubs an "in your face" approach to school-related issues, which includes raucous disruptions of school board meetings and intimidating those with whom they disagree.
One of Freedom Inc.'s big pet peeves is police — student resource officers or SROs — stationed in schools. Last month's Madison School Board meeting was "typical" for the group, featuring "liberal use of profanity" according to the Wisconsin State Journal. 
Freedom Inc.'s "community power building coordinator" Mahnker Dahnweih demanded that SROs be taken out of schools, proclaiming that "anyone who calls […] uses the police on children when there's that, like, unbalanced power dynamic, hold they asses accountable."
She also said "radical queer black feminism has the answer" to, presumably, the district's schools' ills.
When Dahnweih's allotted time to speak was up, she was having none of it: "I don't give a damn about your timer."
Last year at a SRO-related meeting, Freedom Inc.'s "youth justice coordinator" grabbed the cell phone of a SRO supporter and smashed it on the ground.
Though its website mentions things like an "anti-violence Black Lives Matter program," Freedom Inc. "refus[es] to abide by what they disdainfully refer to as 'respectability politics.'" And this presents a bit of a challenge for ultra-liberal Madison.
Laurel Bastian, a Freedom Inc. donor, said that "while their actions at the School Board meeting are an important part of their work, it also exists in a broader context of Freedom Inc.'s goals and (years) of direct service work."

As for its approach to political advocacy, Bastian said, "in every major modern social movement, locally and globally, asking without causing disruption has been ineffective. … Active disruption, in every single case, was necessary to end violence and shift towards justice."

For Freedom Inc., that movement includes the unwavering belief that the presence of police officers in schools contributes to the so-called schools-to-prison pipeline, and as evidence notes that blacks are more likely to be disciplined in school and arrested later in life — trends that are present across the United States. …

Freedom Inc.'s alternatives to stationing police officers in schools and building a new jail are not fleshed out in detail, but in general, call for spending more money on services for youth and people of color and for turning control of school discipline and the police over to the "community."
Former Madison School Board President Mary Burke said that while she "applauds the group's social justice mission," its tactics "prevent the constructive dialogue needed for sustainable change." She added that she's spoken with (black) students who want SROs in their building for safety purposes, but they're afraid of being bullied and labeled "racist."
MORE: SRO removed after giving principal ticket for parking in handicapped spot
MORE: Oregon students ditch class to protest cops' presence in schools
IMAGE: MicroOne / Shutterstock.com
Like The College Fix on Facebook / Follow us on Twitter