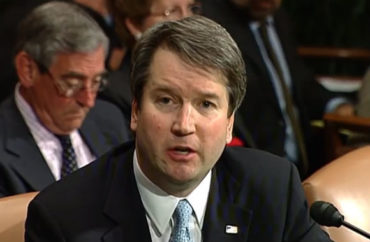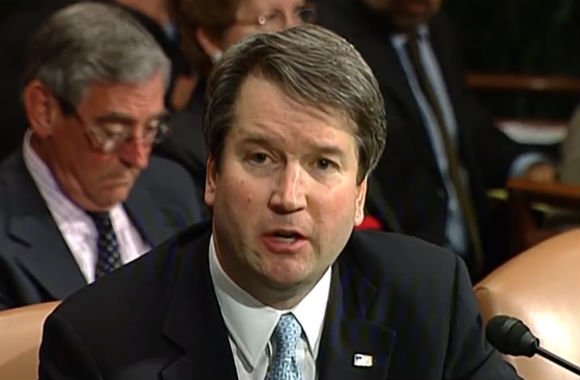 A large announcement sign at a middle school in North Carolina was photographed last weekend with the message "FUCK KAVANAUGH" on it, a reference to recently seated US Supreme Court Justice Brett Kavanaugh.
Blogger A.P. Dillon broke the news after a reader contacted her with an image of the South Charlotte Middle School sign. Dillon then contacted the Charlotte-Mecklenburg School District … and was informed that the story was "fake news."
@CharMeckSchools
A reader took this photo and sent it to me today.
Had you seen this yet?#nced #ncpol pic.twitter.com/SfB4NivHJn

— A.P. Dillon 🤨 (@APDillon_) October 8, 2018
In fact, Dillon writes, the district put out its own tweet showing a blank marquee. This enraged Tracy Lundell, the person who sent Dillon the original (profane) picture, so she took to Twitter herself:
I guess my son, brother in law and I were hallucinating yesterday morning around 10am then? We pulled in the parking lot and took pictures of the awesomeness!… Nothing fake about it! pic.twitter.com/hAUSgSoE6H

— Tracy Lundell (@TalynL) October 8, 2018
Ms. Lundell's account was corroborated by Brendan Bailey, who had also snapped a photo of the sign.
Eventually, district officials admitted their mistake:
Tuesday morning [Charlotte-Mecklenburg Schools spokesman Tracy] Russ confirmed: The message was real. Someone apparently altered the school's sign, which Russ said had another message on it and should have been locked, to reflect dissatisfaction with Kavanaugh's confirmation.

"We thought it had been fake. It turns out it was real," Russ said.

Russ said the principal learned of the message and removed it "pretty quickly." Russ said CMS is checking security cameras to see if the culprit was recorded, but as of Tuesday morning he said the district doesn't know how the sign was altered or who did it.

"CMS messaging guidelines, Board policies and codes of conduct forbid use of profanities in any communications. CMS is investigating this matter with law enforcement," he said in a statement sent Tuesday morning.

Dillon responded to an Observer query Tuesday by saying the CMS response was "perhaps a bit too hasty."

"I think the citizens in the area and parents of children at that school would like to know how the sign was vandalized in the first place," she said.
Indeed. How many average households possess such marquee letters?
Read the full Charlotte Observer article and Dillon blog post.
MORE: DC Comics targets middle schoolers with 'divisive issues'
MORE: Middle school 'blackface' leads to 'aggressive' sensitivity training
IMAGE: MSNBC/YouTube
Like The College Fix on Facebook / Follow us on Twitter