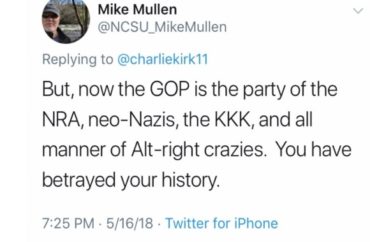 OPINION: His rhetoric alienates conservatives and Trump supporters on campus
North Carolina State University's motto is "Think and Do." Well, I've thought about it, and I want to do something about the image that is being portrayed by the vice chancellor of our university.
While Vice Chancellor and Dean of Student Affairs Mike Mullen has used his Twitter account to tout many great initiatives and accomplishments of North Carolina State, he has also used it to alienate students who have conservative viewpoints or support President Donald Trump.
His Twitter account claims North Carolina State, and on it he also frequently injects his personal opinions, and in particular has suggested Republicans are "rednecks," and said they "lack ethical values."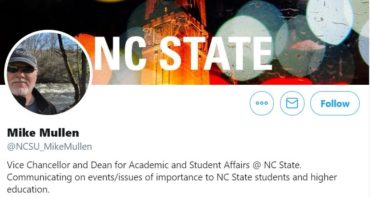 Here's another thing he's tweeted: "Sitting in the Renaissance lounge, working, listening to three redneck businessmen discussing democratic mobs and violence. Lots of coded language. #bloodboiling." The lounge is near campus.
Last spring, he also called the GOP the party of the NRA, "neo-Nazis, the KKK, and all manner of all alt-right crazies." He has also tweeted that the Second Amendment should be nullified by executive order to get "guns off the streets" and "throw out the constitution." That was in November 2018. That's just a few examples.
That same month, his tweets prompted an op-ed in The Technician campus newspaper calling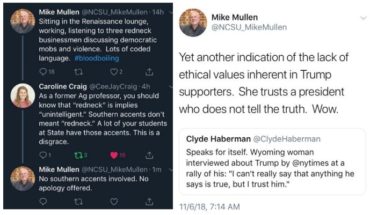 for his resignation. "Clearly, Mullen has failed his role as an educational administrator and is not slated to carry out even his own department's goals of creating an inclusive environment," student Jacob Trubey wrote in November 2018.
At the time, Mullen promised to "do better" on Twitter. He hasn't. His reckless rhetoric has continued. Earlier this month on Twitter, he suggested Trump is a "racist" who uses "hate language" and blamed him for violence — once again alienating conservative students and groups on campus who support the president.
I believe in the First Amendment, however Mullen's job is to lead and represent all students. It's hypocritical for him to preach for an inclusive environment and also to effectively call students who are Republicans neo-Nazis and members of the klan.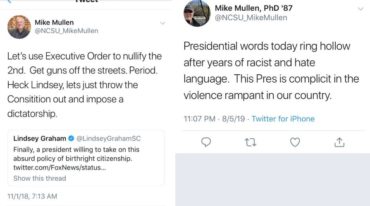 His intention may not have been to alienate conservative students, but it is the result of his actions. I certainly feel this way. He has deleted some controversial tweets, but I do not believe in using the university's name as a platform to push biased political speech and bring a negative spotlight to the institution that I have loved since a child as a North Carolina native.
In this case, I believe Vice Chancellor Mullen's actions have damaged the image of our respected institution.
Over the past few years that I have been a student at NC State, Mullen has preached over and over about the importance of respect and inclusion.
For example, Wolfpack Welcome Week is coming up later this month. The Respect The Pack initiative, an annual welcome week event, brings students, faculty, staff and administrators together to paint messages of inclusion on what's called the "Free Expression Tunnel."
So what is a message of inclusion to Mullen? Because he touts this event every year — and then posts on the World Wide Web calling roughly half the student population a bunch of racists who lack ethical values. Mullen does not practice what he preaches.
I do believe in redemption and forgiveness. That being said, I ask him to do better, to "Think and Do."
I believe that President Barack Obama, his supporters, and students at NC State who voted for him, deserve respect from our campus leaders. Our university is an incubator for thought, discussion and debate, but it should be applied equally.
Our administration is doing wonderful things and we have the best chancellor in the country in Randy Woodson. Under Chancellor Woodson, North Carolina State has launched a campaign to raise $1.6 billion for scholarships, research, programs and facilities, propelling the university to even greater heights.
However, one bad apple can spoil the barrel, and I'm concerned about this apple. I ask Vice Chancellor Mullen to do the same thing he's asked of the campus community — "Think and Do" and also "Respect the Pack."
MORE: Professor who quit Twitter: 'I have not missed it at all.'
Like The College Fix on Facebook / Follow us on Twitter