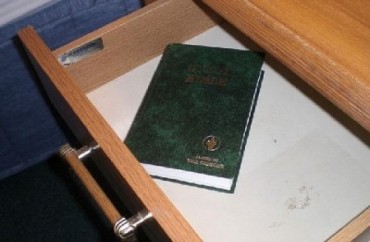 After receiving a letter from the Freedom From Religion Foundation, Northern Illinois University has eliminated Bibles from nightstands in its campus hotel rooms.
Annie Laurie Gaylor, co-president of FFRF, told the Chicago Tribune that the Bibles were "obnoxious" and showed "bad manners."
Gaylor apparently was distressed by the holy book after she and her husband (co-president of the FFRF) stayed at the hotel.
The Christian Examiner reports:
"Nonreligious hotel guests should not have to pay to be proselytized in the privacy of their own bedrooms," Gaylor said, according to a news release from FFRF. "The bible calls for killing nonbelievers, apostates, gays, 'stubborn sons,' and women who transgress biblical double standards. What's obnoxious in a private hotel, however, becomes inappropriate and unconstitutional in state-run lodgings."

Soon afterward, FFRF legal counsel sent a letter informing the NIU hotel the presence of the Bibles was unconstitutional.
RELATED: Pro-atheism group harasses university over Bible verse etched on its 'Heavener Hall'
The letter stated: "Providing bibles to Holmes Student Center Hotel guests sends the message that NIU endorses the religious texts. Including bibles sends the message to non-Christian and non-religious guests that they should read the bible, and specifically the version of the bible provided: the Gideon Bible. Certainly, if guests want to read this religious text during their stay, they can bring their own copy or access any of the numerous churches or libraries near the university."
The American Center for Law and Justice's (ACLJ) Jay Sekulow says the FFRF's claims are "absurd."
The US Supreme Court, he notes, has ruled that adults "should be able to withstand 'speech they find disagreeable' without imagining that the Establishment Clause is violated every time they 'experience a sense of affront from the expression of contrary religious views.'"
RELATED: Can't have Bibles in students' rooms because it's a 'multicultural university'
h/t to Red Alert Politics.
Like The College Fix on Facebook / Follow us on Twitter
IMAGE: Naro Ohio/Flickr