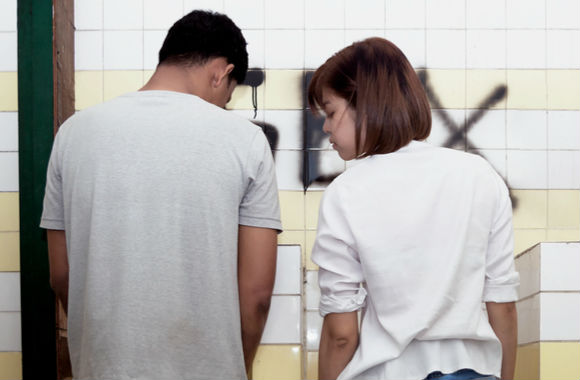 'There aren't any undergraduates' in the building
Northwestern University is touting its first "gender-neutral, multi-stall restroom," intended to make transgender and non-binary community members feel more welcome.
The restroom puts the private school on the map, both as "the first major university in Chicago" to expand beyond single-occupant gender-neutral restrooms and one of about 150 nationwide that let men and women relieve themselves together in the same space.
Unfortunately for Northwestern students who do not identify with their birth sex, the restroom is nowhere near them.
In fact, they will have to drive about 30 minutes south to use it.
Students who are 'guests' can use it?
Northwestern's Institute for Sexual and Gender Minority Health and Wellbeing is the home of the multi-stall restroom. Founded two years ago, it is the "first university-wide institute in the country focused exclusively on research to improve the health of the sexual and gender minority (SGM) community."
Associate Director Francesca Gaiba told The College Fix in an email that multi-stall gender-neutral restrooms are "needed in any institute or organization like ours that employs and serves a large number of transgender and gender-non-confirming [sic] staff, students, study participants and visitors."
The institute restroom is not actually intended to serve students, though.
MORE: Everyone can pee together at University of Vermont
The institute released a statement on the new facility June 27 to mark Pride Month but provided few details.
While it said the restroom is located on "the Northwestern campus," the statement's dateline is Chicago and it doesn't say the restroom is in Evanston or suburban Chicago.
It also doesn't specifically refer to students as users of the restroom.
Francesca Gaiba. At State of LGBTQ youth and wellbeing at Northwestern U. #lgbtqyouth2017. … pic.twitter.com/Gcv4U9JI6z

— Windy City Times (@WindyCityTimes1) June 30, 2017
"Safe access to restrooms for transgender and gender nonconforming people has been cause of debate across the country," the institute said. "Lack of access can have negative effects on health and safety; it is important to take steps to remove barriers in order to reduce instances of harassment and threats of violence."
Its only reference to students is near the bottom, which said the institute and university "place the health and safety of their faculty, staff, and students as top priority."
The institute is located at the Feinberg School of Medicine in downtown Chicago. Gaiba told Chicago Tonight earlier this month the multi-stall restroom is available to "about 70 faculty and staff."
MORE: Yale sues Connecticut to get more gender-neutral restrooms
In an email to The Fix, a Northwestern spokesperson said "there aren't any undergraduates" that live in or take classes in the building, "and this new arrangement will only be open to persons at the institute, as I understand it."
The Chicago Sun-Times reported that "students can be let in as guests to the building." It said university officials greenlit the multi-stall restroom as gender-neutral when the institute moved into the building "a couple of months ago." It's part of a row of restrooms, one a female-only multi-stall and the other a single-stall gender-neutral restroom.
CBS Chicago reported that the main campus in Evanston has five single-occupant gender-neutral restrooms.
Multi-stall use 'validates the lives of people'
Gaiba has been making the case for months that single-occupant facilities without gender designations are "only one step toward an inclusive solution," since most buildings don't already have them, as she wrote in a December column in the progressive website Truthout.
While single-occupant restrooms are being converted – a "simple and inexpensive" process – proponents can start to "build public support for the redesignation of certain multi-stall bathrooms as open to all genders," which requires broader code revisions and should be done gradually to avoid pushback from businesses over the extra costs, Gaiba said.
In her appearance on Chicago Tonight, Gaiba reiterated that her goal was "to move people toward accepting the use of a multi-stalled, gender-neutral bathroom" since it is "impossible to believe" that every building will one day have a single-occupant restroom.
Gaiba admitted she was "startled" by her first experience in such a multi-stall facility, but "I weighed my discomfort against a facility that validates the lives of people."
MORE: Universities teach gender fluidity as fact to college students
Like The College Fix on Facebook / Follow us on Twitter
IMAGE: SanchaiRat/Shutterstock