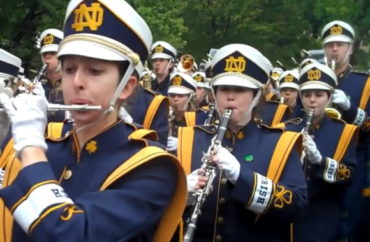 Notre Dame's Victory March just got more inclusive.
The University of Notre Dame's fight song will now reference both "sons and daughters" in its lyrics, the university has announced.
The old lyrics included the stanzas: "Old Notre Dame will win over all, while her loyal sons are marching onward to victory"; now they will be: "While her loyal sons and daughters march on to victory."
"Notre Dame's fight song is one of the most recognizable in the country, gaining fame due in large part to the success of their football program throughout the 20th century," Fox News reported.
The announcement took place as Notre Dame marks the 50th anniversary of admitting females to the school.
It's official ☘️

Cheer, cheer for old Notre Dame,
Wake up the echoes cheering her name,
Send a volley cheer on high,
Shake down the thunder from the sky
What though the odds be great or small
Old Notre Dame will win over all,
While her loyal sons & DAUGHTERS
MARCH ON to victory pic.twitter.com/aheZD7cQt1

— University of Notre Dame (@NotreDame) June 3, 2022
The song debuted on campus 1908, and a decade later the Notre Dame band began to perform the fight song at athletics events, the university stated in a news release.
Comments on Twitter in response to the university's announcement appeared to be mixed.
"The fight song was written when ND was for men only. The school has changed and times have changed … both for the better," one commenter said.
But another noted sarcastically: "Never going to sing it like this but still glad this change has solved all the problems of the world."
Many people also voiced concern that the change will mess with the way the iconic song is performed: "it is awkward from a syllable standpoint. Could have changed 'son's' to 'one's' would have been inclusive and made sense from a syllable standpoint."
In the past, Notre Dame has also faced pressure to retire the football team's "Fighting Irish" leprechaun logo.
Notre Dame is also not the only school to amend its fight song to make it more inclusive. In 2014, the University of Utah changed the lyrics to its 114-year-old "Utah Man" fight song after some students complained it was sexist and oppressive.
MORE: Christopher Columbus murals covered with Native American tapestries at Notre Dame
Like The College Fix on Facebook / Follow us on Twitter