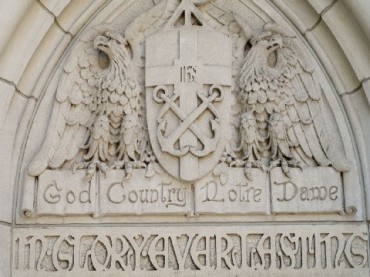 A war-of-words has engulfed the University of Notre Dame recently, with dueling student petitions dividing the campus and prompting a debate over whether the venerable Catholic university should take a stand in support of traditional marriage.
The controversy started early last month, when an informal group of Notre Dame students, Students for Child-Oriented Policy, launched a petition that called on administrators to "make a clear stand in support of the true definition of marriage and to take serious and sustained action to improve the public understanding of this natural institution."
In conjunction with its petition, SCOP organized an April 3 conference titled "For Richer, For Poorer, For Children: The Definition and Importance of Civil Marriage." Prior to this conference, Notre Dame senior Alfredo Guzmán-Dominguez, president of the Orestes Brownson Council, requested permission from the Student Activities Office to promote the marriage petition in the campus student center.
But the Student Activities Office's programming director told the group the petition must be reviewed by the university's Gender Relations Center before a promotional table could be hosted, Guzmán-Dominguez told The College Fix. This process made it impossible to get approval in time to set up a table to publicize the petition and the conference.
"She noted concerns that the petition was 'inaccurate' and that the petition's quotation of Notre Dame's mission statement might imply that unmarried parents are not engaging 'in a way of living consonant with a Christian community,'" Guzmán-Dominguez said.
Meanwhile, Notre Dame students launched a counter-petition against the conjugal marriage petition and the new Students for Child-Oriented Policy group.
This counter-petition not only opposes official recognition of the SCOP, but also asks university officials to renounce it "unless (its members) reformulate club policy, in which childhood outcomes should not be included as a defense against marriage."
"The petition sought to deny us official recognition as a student club and so the ability to organize events through which to explore and explain our club's perspective," Notre Dame senior Tim Kirchoff, a member of SCOP, told The College Fix. "It accused us of not entering into responsible discourse about social science before we had a meaningful opportunity to do so in the context of a wider conversation. There's something just a little silly about that."
But the counter-petition claims that SCOP's motives "can only be interpreted as discrimination against individuals based on sexual orientation." Their petition goes on to assert that "clearly, this group is not actually in the pursuit of knowledge and truth, nor do they want what is 'best' for children."
The counter-petition takes issue with Students for Child-Oriented Policy on the false grounds that the group incorrectly asserts "that same-sex parenting is damaging to children." The anti-SCOP petition argues that such an assertion "blatantly ignores all empirical data in this field of the social sciences that actually indicates the opposite is true."
This claim, however, is contested by an amicus curiae brief filed by a group of social science professors in the 2012 Supreme Court cases Hollingsworth v. Perry and US v. Windsor; and this Public Discourse article by Ana Samuels that presents an extensive overview of the social science data directly contradicting the "no-differences" argument featured prominently in the anti-Students for Child-Oriented Policy petition.
The SCOP petition cites the Catechism of the Catholic Church, Notre Dame's mission statement, and a university document called "A Pastoral Plan for the Support and Holistic Development of GLBTQ and Heterosexual Students at the University of Notre Dame" to make its case.
"SCOP does not solely aim to address the redefinition of marriage," Tiernan Kane, president of Students for Child-Oriented Policy, told The College Fix.  "SCOP has not contributed to the ongoing social-science debate about family structures—but rather asserted a right of every child to the care of his or her mother and father."
Kane defined SCOP as "a group of Notre Dame students concerned that policy be made with special attention to how it will affect children—and committed to advocating children's rights."
Kirchoff had authored a letter to the editor to Notre Dame's mainstream campus newspaper, the Observer, encouraging students to attend the April 3 conference with an open mind, in the same "tolerant" way Notre Dame students are asked to view PrismND, the university's gay-straight alliance, and the 4 to 5 Movement, a gay-rights student club.
The April 3 SCOP conference featured presentations by evangelical bishop Harry Jackson Jr., Professor Gerard Bradley of the Notre Dame Law School, Professor Daniel Mark of Villanova University, and Robert Oscar Lopez, among several other speakers.
Following the conference, the president and vice-president of PrismND co-authored a letter to the editor published Monday in the Observer.
"We are not opposed to the existence of SCOP," the Prism leaders' letter stated, "nor to the discussion it intends to have. Rather, we condemn the part of the discussion that degrades the lives of those who identify as GLBTQ in order to further its purpose."
Reached for comment, PrismND president, sophomore Bryan Ricketts, said his views on the conference "were represented well in the editorial."
Meanwhile, two out of five of PrismND's officers have signed the Stop-SCOP petition, as well as more than one-third of the Notre Dame's Gender Relations Center student FIRE Starters, whose responsibility it is to "foster dialogue" and "promote open and inclusive discussion."
University of Notre Dame spokesman Dennis Brown did not respond to a request for comment. Campus administrators have yet to publicly speak out on the controversy.
During the 2013-14 school year at Notre Dame, PrismND, the gay, lesbian, bisexual, transgender and questioning student group was established on campus. This gay-straight alliance hosted "National Coming Out Day" observances and lectures, and the university also established a pastoral plan called "Beloved Friends and Allies: A Pastoral Plan for the Support and Holistic Development of GLBTQ and Heterosexual Students at the University of Notre Dame."
College Fix contributor Alexandra DeSanctis is a student at the University of Notre Dame.
Like The College Fix on Facebook / Follow us on Twitter
IMAGE: MudFlapDC / Flickr