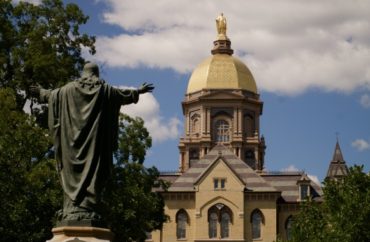 'We cannot help but question how witnessing such a performance prepares students to be forces for good and truth in the world'
Catholic women at the University of Notre Dame are calling on school officials to cancel the upcoming drag show planned for the once-great Catholic institution.
The students write that the recent campus work "regilding the golden dome and Our Lady," is being undercut by a "warped" feminine form.
"A feminine form that is warped and mocked in the burlesque-styled form of entertainment that drag ultimately is," Madelyn Stout and Merlot Fogarty write in their open letter. "We cannot help but question how witnessing such a performance prepares students to be forces for good and truth in the world."
They criticized Vice President of Student Affairs Gerry Olinger for protecting the drag show in the name of "academic freedom."
The female students write in response:
This event is not for the sake of study or dialogue; it is not the result of a faculty or students' research; it is not for the sake of academic inquiry. Three male 'artists' are being paid to parade around in provocative women's clothing under the guise of 'self-expression' and 'bodily autonomy.' If this is academic freedom, then the phrase is meaningless. Academic freedom should not be used as a weapon of opinionized activism.
"Notre Dame" means "Our Lady," referring to Mary, the Mother of God. The students called out the university for ignoring this in its support of the drag show. "Our very identity is being ridiculed under Mary's watchful eye," they wrote.
"The university's moral obligation to the truth and protection of her students absolutely overrides a shallow notion of 'academic freedom' masking activist falsehood," the students wrote. "We cannot stand for the normalization of disordered ideology. We cannot stand for the pursuit of false ideas of the human person."
"And we certainly cannot stand for the persistent ridiculing of women and violation of our dignity," they wrote. "Prejudice against the truth of the human body should have no place here, especially at a university under the patronage of Mary, Mother of God."
The drag show comes as the university's president John Jenkins announced he plans to resign. As president, Jenkins allowed the university to rot and let abortion and LGBT programming to flourish, in direct contradiction of the Catholic Church.
An "abortion doula" event on campus even led to a rebuke from the local bishop, who called it "intellectually unserious," as previously reported by The College Fix.
The event was just one of the pro-abortion, pro-LGBT events Jenkins allowed under his tenure, as documented by The Fix.
Last chance to support student journalists during our Back to School fundraising campaign! We're very close to our goal of $25,000. But we're leaving money on the table if we don't complete the matching gift offer by Oct. 31. Thank you!
MORE: 'Abortion doula' slated to speak at Notre Dame
IMAGE: Rebecca D. Lev/Shutterstock
Like The College Fix on Facebook / Follow us on Twitter