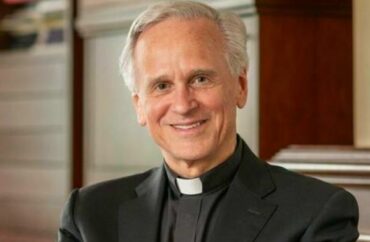 UPDATED
'Intellectually unserious' is a good description of Notre Dame under President Jenkins
University of Notre Dame leadership will need to pick a new president after its current one announced he would resign after nearly two decades at the helm of the once prestigious Catholic university.
Let us hope the next one restores virtue at the university and puts a stop to the promotion of abortion and the LGBT agenda.
President John Jenkins, who is also a Catholic priest, will step down at the end of this year school year, the university announced. I appreciate any man that promises a life of abstinence to serve the Catholic Church as a priest. And he took some good actions while president, such as pushing for in-person learning early in the COVID lockdowns.
But his time in office included a record of allowing dissident voices to promote abortion, homosexuality, and transgenderism all while the university ostensibly remained Catholic. Under his tenure, the university drew a rare rebuke from the local bishop, who called an "abortion doula" event "intellectually unserious."
"I share these concerns and consider the decision to feature such a speaker on campus to be both intellectually unserious and unworthy of a great Catholic research university," Bishop Kevin Rhoades wrote in March.
"Unworthy" of a Catholic university and "intellectually unserious" could refer to any number of activities President Jenkins allowed under his watch.
These include a "National Coming Out Day" and an upcoming drag show performance on campus.
Pro-abortion politicians also have received a warm welcome from President Jenkins, including Barack Obama, Joe Biden (though he withdrew) and Juan Santos, the former president of Colombia.
MORE: Notre Dame yanks support for pro-life event because of Ben Shapiro old tweet
The next president has to be a priest from the Congregation of Holy Cross, the religious order that runs Notre Dame. The bench is not looking strong, however, save for Dan Parrish at the University of Portland.
Jenkins allowed his fellow priest Gerry Olinger, a potential candidate for president, to promote homosexuality and transgenderism in an official Notre Dame video.
"I just want to exist and have a healthy and fun relationship, just like everyone else here at Notre Dame, straight or otherwise," a bisexual female student shares in another video in the series.
The university also contradicted the Vatican and ordered everyone to receive a COVID-19 vaccine. That directive also drew a rebuke from another bishop who teaches at the university.
Meanwhile, the university has covered up the cultural legacy of Christopher Columbus, a devout Catholic.
It's too bad the murals were not supporting the removal of healthy organs from gender-confused kids – then Notre Dame would have proudly hosted them, like it did in February 2020.
Those are of course the kids who survive.
Because even though the Catholic Church has long opposed abortion, the deliberate destruction of human life, Notre Dame has helped its employees procure abortifacient drugs through the campus health plan. No such law requires it to do so and the university won in the courts to get an exemption to Obama's birth control mandate.
Senator Dianne Feinstein famously told a Notre Dame law professor and judicial nominee that the "dogma lives loudly within you."
No such accusation could be made about the university under Jenkins' watch.
Editor's note: The article has been updated to reflect a video supportive of homosexuality was part of a series that also included Gerry Olinger.
MORE: Art scholar teaches kids to 'summon' 'demons'
IMAGE: University of Notre Dame
Like The College Fix on Facebook / Follow us on Twitter