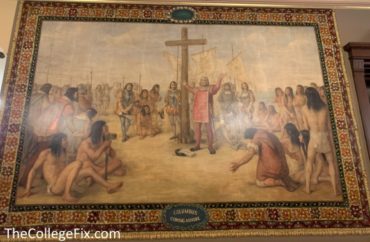 Officials refuse to comment on status of pledge to cover artwork 
In January, University of Notre Dame President Rev. John Jenkins announced that murals on campus depicting Christopher Columbus' journey and arrival to the Americas in 1492 would be covered up, calling the explorer's arrival "nothing short of a catastrophe" for natives.
At the time, the decision prompted massive backlash from alumni and other voices across the nation. Many donors have since pulled funding, alumni and student groups have submitted petitions, and historians have expressed their disbelief and outrage.
Now, eight months later, as students come back to campus for the fall 2019 semester, they are greeted with the murals still standing, uncovered.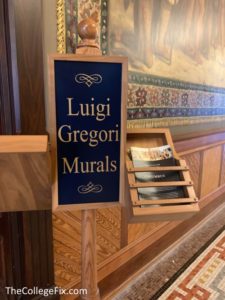 Repeated attempts by The College Fix over the last two weeks by phone and even in-person office visits seeking an update on the status of the murals went brushed aside and unanswered. The president's and public relations offices both did not cooperate with requests for comment.
With that, campus leaders appear unwilling at this time to discuss any status report on the controversy.
When the decision was first announced, Jenkins explained it would be impossible to move the works without damaging the walls, so instead a permanent display of high-resolution images of the murals would be created somewhere on campus while the murals themselves would be covered with "woven material consistent with the décor of the space."
As to whether that process is underway, officials refuse comment.
The university had created a committee in February to advise campus leaders on how best to display the mural images "in the appropriate context, as well as on related issues," but that group has yet to put out a public statement of some sort.
While a plan seemed to be in full swing for the 12 murals, hung in the same hallway as the admissions office, nothing has changed. (The photos for this article were taken in early September). It appears no physical work to cover them with "woven material consistent with the décor of the space" took place over the summer.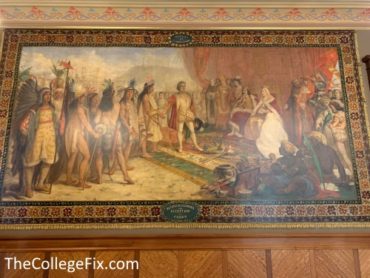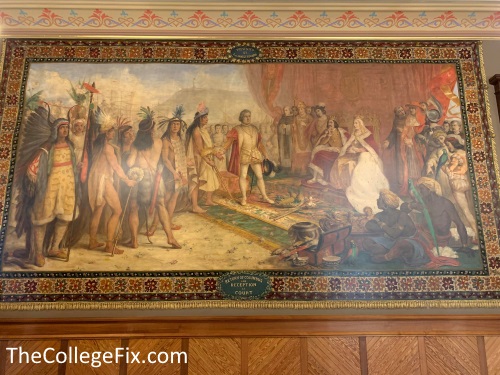 The murals are located in the first floor hallway of the Main Administration Building otherwise famously known as the "Golden Dome." The building is a crucial symbol of the campus along with the Basilica of the Sacred Heart and the Hesburgh Library with the "Touchdown Jesus" mosaic.
The murals are a piece of history, dating back to 1882 when an Italian immigrant, Luigi Gregori, was commissioned to paint them. This was done in response to the Catholic school's large immigrant population. Columbus, who was a Catholic, was seen as a hero who established the Catholic faith on an entire continent and celebrated for his work of exploration.
Pamphlets that attempt to put the paintings in context to visitors say the artwork aims to inspire, uplift and educate.
Prior to Jenkins' announcement, numerous Native American groups and others at the school throughout the years had petitioned for their removal, calling them a "version of a Confederate monument."
MORE: Decision to cover Notre Dame's Columbus murals stirs debate, disagreement
IMAGES: Catherine Viz / For The College Fix
Like The College Fix on Facebook / Follow us on Twitter