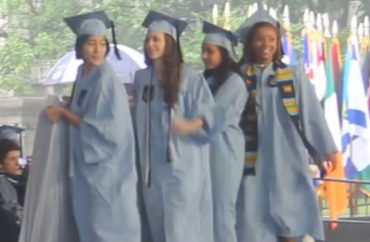 Ignores Columbia settlement in response to Sulkowicz's harassment of accused student
National Public Radio isn't interested in fair reporting when it comes to sexual assault.
That's made plain by a segment on the "restorative justice" approach to campus sexual assault that aired Tuesday afternoon on All Things Considered, which bafflingly deprived its audience the most newsworthy trait of one of its interviewees.
Reporter Tovia Smith quotes as a "survivor" the Columbia University graduate Emma Sulkowicz, who lost her rape case against fellow student Paul Nungesser in a campus adjudication based on the extremely low "more likely than not" evidence standard.
Sulkowicz and her activist friends harassed Nungesser, a foreign student, for years through her "Carry that Weight" art project, in which she pledged to lug a mattress around campus until Columbia punished Nungesser, whom it had explicitly exonerated of any wrongdoing.
She lugged the mattress right on the graduation stage in explicit violation of Columbia graduation protocol and received academic credit for the project – factors that certainly played into Columbia's recent payoff of Nungesser to drop his gender-discrimination lawsuit against the school.
None of this is hard to find, and reporter Tovia Smith and her apparently negligent editors would have had a better news hook with Columbia's settlement with Nungesser announced five days earlier.
Sulkowicz is unsurprisingly not a fan of restorative justice, in which accusing and accused students work through their dispute together in a process that "looks more like a therapeutic intervention than a trial," Smith reports:
Activist and survivor Emma Sulkowicz says the approach is not for everyone.

Sometimes, she says, trial and punishment is what's called for, like in the case of a guy on her campus who was accused of several assaults [if this refers to Nungesser, they were filed by Sulkowicz's fellow activists].

EMMA SULKOWICZ: I think that this person in particular, given his track record of person after person after person, I think it's clear that he is a sadist in the truest meaning of that word. So we just wanted him to get off campus.

SMITH: Sulkowicz says she also worries about who will facilitate the conversations. Given how campus administrators botched her trial process, she says, how will they pull off the more nuanced restorative justice approach?
Here's a primer on Sulkowicz in case Smith wants to supplement her woefully vague portrayal of this "survivor" of a "sadist" whom Columbia refused to find responsible for anal rape, risking millions in federal funding:
She is the nationally known "Mattress Girl," she accused Nungesser of anal rape after asking him to "fuck me in the butt," she lost in a venue tilted toward accusers, she harassed an exonerated student with Columbia's complicity for years (including school-sponsored revenge porn), she was celebrated and feted by a U.S. senator, and she made the porn equivalent of O.J. Simpsons's quasi-confessional If I Did It.
If you think this segment might as well be cheerleading Sulkowicz, tell NPR's ombudsman.
Like The College Fix on Facebook / Follow us on Twitter
IMAGE: Columbia Daily Spectator/YouTube