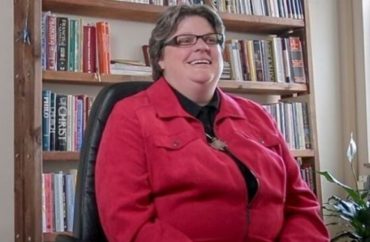 Nun said she would 'love' to support a pro-choice club
A nun who boasted about "curtailing" the activities of the campus pro-life group has the school's "full support," according to the university president.
Viterbo University President Rick Trietley told The College Fix via an emailed statement that "Sister Laura Nettles is an accomplished Catholic theologian who embraces Catholic teachings, including the Church's call to respect all life," and "has the administration's full support." Nettles is a professor and administrator at the Wisconsin university.
"She has given voice to the university's Catholic identity and values, and she continues to strengthen connections among all members of the Viterbo family," Trietley said in a statement.
Controversy arose after audio came out from an August meeting where Nettles discussed the campus V-Hawks for Life group and a potential pro-choice organization.
Nettles was also asked about V-Hawks for Life and said the university was "significantly curtailing their activities–what they can do, what they can't do."
"They actually have to jump through a lot of hoops to be able to do what they do," Nettles shared.
Meanwhile, Nettles (pictured) said she would "love to say yes" to a pro-abortion group, but advised the group to pick a more neutral name besides "Students for Choice."
"Using the term 'pro-choice,'" would be challenging Nettles said, due to the Catholic Church's opposition to abortion.
"I would love to say yes to the club, but I asked [the student who suggested the club] if he would be willing to consider a different name like a 'Health Club' or 'Reproductive Rights' club," Nettles said.
MORE: University welcomes pregnant women and mothers to campus
"What the student described he wanted to do in the club was to really advocate for women's rights in healthcare to which I said, 'amen' to. So the question was whether he would be willing to think of a different title for it but do much of the same work," she shared at the meeting.
Trietley refuted Nettles' claim of a pro-abortion group on campus.
"Viterbo University will not allow a pro-choice club to form on campus as it would be a direct contradiction to Catholic teachings," Trietley told The Fix.
V-Hawks for Life President Danielle Smits had been harassed over the club's tabling event on campus, receiving anonymous notes expressing a hope that she be sexually assaulted and impregnated. Smits filled out a hate/bias report in May of this year, but as of yet she hasn't been alerted to any action by the university in response to the report.
The Fix asked Trietley what actions the university is taking to ensure V-Hawks for Life is not subjected to harassment and are able to conduct their club without undue administrative restrictions.
"All student groups are welcome and encouraged to be active and engaged on campus and across the La Crosse community," he said in his comments. "Viterbo officials respond quickly to any complaints of harassment and take such complaints very seriously to ensure a safe environment for everyone. Results of these investigations are rarely made public, even when corrective actions have been taken."
Other media outlets obtained portions of the audio that recorded Nettles' comments, but the full videos and audio recordings have not been released by the university.
The university will not release the full video and audio from the event. "The presentation was developed solely for Viterbo University employees as part of Viterbo's ongoing efforts to amplify the importance of Viterbo's Catholic identity and values and what they mean for our community," the president told The Fix when asked. "Given how a small portion of the presentation has been misrepresented in the public domain, we won't be releasing it to the media."
MORE: Notre Dame professor helps students abort their babies
IMAGE: ANunsLife.org
Like The College Fix on Facebook / Follow us on Twitter