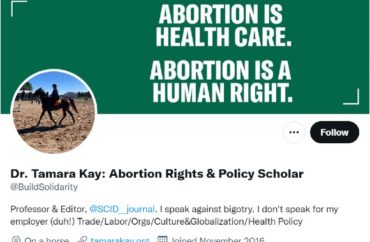 Said the university approved her facilitating abortions
A professor at the (nominally) Catholic University of Notre Dame proudly helps students abort their babies – and said the school has no issue with what she is doing as long as she acts in "private."
Professor Tamara Kay is part of a network of Notre Dame professors that help students kill innocent babies in their womb.
"Will help as a private citizen if you have issues w access or cost. DM me," Kay tweeted, as reported by the conservative campus publication The Irish Rover. She spoke at a university panel in September about supporting abortion.
The Rover reported:
When asked whether she believed her promotion of abortion was acceptable according to Church teaching and Notre Dame policy, Kay initially responded, "I am not actively doing that." But when pushed on the matter, she clarified, "Oh, I am doing that as a private citizen, so that's been cleared by the university … I talked to the dean and have also spoken to ND Media about policies."
The publication reported that "the signs on her office door were removed, and all tweets directly referencing abortions for students were deleted."
Professor Kay set an automatic response for her emails. "Dear Friends and Colleagues, Notre Dame police are monitoring this email account and only forwarding me work-related email from students and colleagues. I won't get the rest," she wrote. "[W]hite nationalist Catholic hate groups can't appreciate my academic work on reproductive health, rights, and justice. But ND supports my academic freedom," she said, before directing recipients to her personal website.
The College Fix asked if the business professor agreed with the Catholic Church that abortion is a mortal sin, which means it is a gravely evil act. In Catholic theology, a mortal sin must be forgiven by a priest in the sacrament of Confession before someone can present themselves for Holy Eucharist.
Her comments drew criticism from faithful Catholics. University leadership also recently came out in support of homosexual activity, which the Catholic Church also condemns.
"It is a disgrace when any Catholic university allows for equivocation on the issue of abortion," Jeffrey Kirby, a Catholic priest and moral theologian, told The Fix via email. "As Catholics, we stand with the unborn and all vulnerable people. Our teachings are clear and Catholic universities are called to be faithful to them."
Kirby said that Catholic Church officials should intervene. "When a professor at a Catholic university supports and advocates for abortion, Church discipline is to be decisively exercised," he wrote. "University leadership and the local Bishop are to be directly involved and the public scandal of any pro-death advocacy is to be addressed and resolved swiftly."
"At a time when a culture of death is sweeping Western culture, the institutions of the Catholic Church are to be adamantly pro-life," he said in his email. He wrote that "there is no room for compromise or equivocation" on these issues. "In particular, Catholic universities, which shape the minds and hearts of the next generation, are to be above reproach and unquestionably pro-life and actively teach and promote a culture of life."
The Diocese of Fort Wayne-South Bend did not respond to a request for comment on Wednesday morning from The Fix on if church officials planned to look into the situation at all. Notre Dame's media team did not respond to a request for comment on the situation.
Notre Dame alumni group says Kay's actions are a 'grave abuse of trust' 
The president of a faithful Catholic alumni group called the Sycamore Trust thinks it is good the university asked Kay to take down posters and some tweets about abortion, but wants to see more done.
"Professor Kay's promotion of abortion and in particular her offer to students to help them get abortions is a grave abuse of the trust placed in her by the university, parents and students," Bill Dempsey wrote in an email. "It is gratifying that the university required her to delete her twitter postings and the poster on her door holding out this assistance to students."
"There is more to be done by the administration to combat the promotion of abortion on campus," he wrote. "For example, the administration should make plain its support of the Indiana abortion statute and insist on faculty and staff complying with that law, with severe penalties for those who do not."
A professor in Japan and a Catholic commentator also weighed in on the controversy. He said this is the latest example of Notre Dame embracing liberal ideology over the Catholic Church.
"I applaud the Irish Rover for trying to keep Notre Dame a Catholic institution, but I'm afraid the appalling actions of Professor Tamara Kay are fully in line with the Notre Dame that Fr. Ted Hesburgh envisioned," Professor Jason Morgan wrote in his email to The Fix. Morgan is a former contributor to The College Fix. "Notre Dame is, and has long been, an adjunct of the Democrat Party—exactly what Fr. Hesburgh wanted, and precisely what the man himself embodied in his own career."
The late Hesburgh pioneered the "Land O' Lakes" statement, which effectively said that Catholic universities would be universities first and then Catholic second.
Morgan wrote that perhaps a bold bishop such as San Francisco's Salvatore Cordileone would "be able to whip Notre Dame into shape, but since even the pope insists on giving Holy Communion to avowed abortion fanatics like Nancy Pelosi and Joe Biden, there seems to be little hope for ND short of divine intervention."
He said that the "so-called Catholic leadership almost uniformly lacks the courage to do anything about the secularization of Notre Dame" consistent with the "current Vatican II regime."
"In the meantime, Notre Dame students remain in the very dangerous situation of having professors pushing abortifacients from university offices," Morgan wrote. "Abortifacients are dangerous drugs which kill a developing human being and can cause serious health problems for the mother, including death. This is not only grossly anti-Catholic, it is grossly anti-human. It is, in short, the Democrat Party in microcosm."
"I hope somebody in the American [Catholic] hierarchy gets serious about Christianity quick," Morgan concluded. "Until that happens, may God help the young women at Notre Dame."
MORE: Bishop rebukes Notre Dame president for COVID vaccine mandate
IMAGE: Tamara Kay/Twitter
Like The College Fix on Facebook / Follow us on Twitter