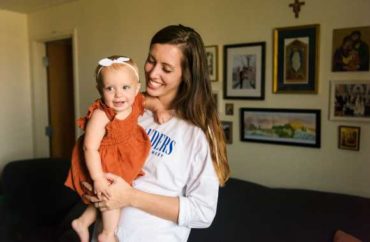 'We are going to provide community for them…but they need to do their part'
Pregnant and parenting students can take part in a new scholarship fund to cover room, board and childcare at the University of Mary in Bismarck.
The Catholic North Dakota university will welcome several single mothers to campus this fall through its St. Teresa of Calcutta's Community for Mothers.
"Having just launched the [community], we are still in the process of receiving applications," university media representative Tom Ackerman told The College Fix in an email. "We have had 4 inquiries and most likely will only have two for this fall, but have others inquiring about the spring semester."
"We have a few open rooms on campus, that we can designate for these ladies to live in community," Executive Vice President and Chief of Staff Jerome Richter told The Fix in a phone interview. There they will receive free accommodations supervised by resident director Rebecca Hoopes (pictured, with her daughter) and childcare provided by students as well as the school's child development education program.
The total scholarship amount is "more than a six figure number" from a family dedicated to helping mothers continue difficult pregnancies, Richter said. The school expects to help up to 50 young women and children with the initial gift alone.
Richter emphasized that the university is providing this gift to the mothers with the expectation that they reciprocate by taking their studies seriously and developing character, the same expectations that bind all St. Mary's students.
"We are going to provide community for them, we are going to provide stability for them, we are going to provide childcare, but they need to do their part, and doing their part is being a good student," he said.
Richter also noted that the new scholarship fund was inspired by the Supreme Court's recent Dobbs v. Jackson Women's Health  decision overruling Roe v. Wade. A law banning abortion in North Dakota would have gone into effect in August but was put on hold by a district judge, according to The Washington Post.
"We sit here and we ask ourselves what should we do," Richter said. So "we started working with a family who had a heart for this."
The University of Mary hosts full sessions three times a year — spring, fall and summer — which will "hopefully gives [the mothers] the opportunity to get ahead in a prudent and reasonable fashion," Richter said.
MORE: Husband and wife-funded nonprofit helps Auburn student facing difficult pregnancies
IMAGE: University of Mary
Like The College Fix on Facebook / Follow us on Twitter