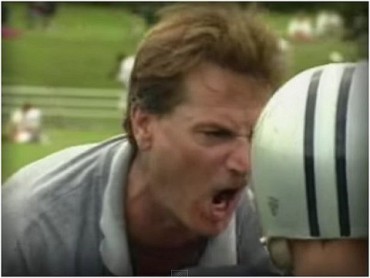 Mel Robbins' CNN.com article this past week should strike a chord with many — it certainly did with me.
How many of you have encountered out-of-control moms and dads at your kids' sporting events?
Complaining about the referees or umpires. Pestering the coaches. Berating their children during games and worse, at practices. Berating other children during same.
Robbins writes:
Like many of you, my husband and I have spent the last 15 years cheering, consoling and coaching our three kids through youth sports. Like many of you, I feel like a lousy parent when I can't make it to a game. I've also complained about the overly-competitive sports parents who show up at every practice and make team sports a nightmare for kids, coaches, refs and other parents.

You know the type: the delusional moms who think their kid is a prodigy and do nothing but complain about their child's playing time. Or the fathers who can't let go of their own glory days, so they scream relentlessly from the sidelines at 10 year olds and threaten volunteer refs.
Oh yes, I know the type. Having coached at all age levels (elementary years through high school), the primary reason I gave it all up a few years back was mainly due to what Robbins details.
After all, dealing with such can be quite debilitating. Probably the worst is when team "cut" time rolls around; after all, a (school) basketball or baseball team can't keep everybody who's tried out.
To use Robbins' terminology, this is when the "prodigy" grievances typically are expressed, especially the "But my kid is an all-star in his/her league!" This ignores, of course, that a lot of the kids who try out are all-stars in their respective leagues. Most, even.
Not to mention, in many areas throughout the country now, almost every kid gets "all-star" status. Because these days everyone is a "winner," eh?
Back in the day (sorry if I sound like this guy), I'd have been aghast if my parents ever contacted a coach about me not making a team — or, complained about my playing time. I don't recall any of my friends' folks ever contemplating such, either.
I also don't remember my parents having to be in attendance at every single game or track meet (another of Robbins' beefs), else I psychologically be unable to compete … and they suffer from some sort of "inadequate parenting syndrome." My dad worked a part-time job at night most evenings, and my mom was busy taking care of my younger sisters.
So hey, moms and dads: Take a chill pill. Keep a sense of perspective. Your kid will turn out all right if he/she doesn't make a team or sits the bench a lot. Really.
Nine years ago I wrote about the most outlandish "crazy parent" incident I'd ever experienced. It remains so today.
Like The College Fix on Facebook / Follow us on Twitter
IMAGE: YouTube screencap