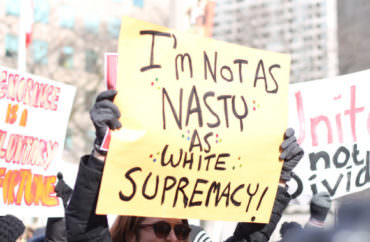 New York City school administrators have been taught that pillars of Western Civilization such as objectivity, individualism, and even belief in the written word all are examples of … white supremacy.
So reports the New York Post, which comes on the heels of its story about city schools chief Richard Carranza and an anti-white discrimination lawsuit soon to be filed against him.
A slide presentation obtained by the Post from the workshop "Dismantling Racism: A Workbook for Social Change" includes claims that a belief in an "ultimate truth" (objectivity) leads to a dismissal of "alternate viewpoints or emotions" as "bad" (this is straight out of the critical race theory playbook), and that emphasis on the written word overlooks the "ability to relate to others" and leads to "teaching that there is only 'one right way' to do something."
Other "hallmarks" of white supremacy include a "sense of urgency," "quantity over quality," and "perfectionism."
All school principals, district office administrators, and superintendent teams were required to attend the anti-white supremacy training put on by the city DOE's Office of Equity and Access. However, Carranza says the workshops are just about "what are our biases and how we work with them."
The mandatory session for higher-ups included a "White Privilege Exercise" sheet in which attendees were asked to score the personal relevance of certain statements on a scale of 0 to 5.

"If a police officer pulls me over, I can be sure I haven't been singled out because of my race," one scenario reads.

"I can be pretty sure that if I ask to talk to 'the person in charge,' I will be facing a person of my race," another says.

The DOE did not immediately respond to a request for comment about the materials used for the administrators' training, but one adviser said that if the program's frankness is making people uncomfortable, that's because it's working.

"It requires discomfort," said Matt Gonzales, who serves as an outside adviser on the DOE's school diversity task force and is a director of New York Appleseed, an advocacy group for school integration.

"Having to talk about someone's own whiteness is a requirement for them to become liberated."

Several recent attendees of the DOE's overarching implicit-bias training sessions — mandatory for all, including teachers — have bristled at the program's emphasis on the inherent insidiousness of "white" culture.

White employees who object when accused of harboring deep-seated bias are branded "fragile" [a la Robin DiAngelo] and "defensive," one insider who received the training has said.
Carranza says that those skeptical of the trainings "are likely the ones who need the training the most."

You have to admire the delightfully Maoist nature of how this whole thing is set up: The city makes use of Glenn Singleton's "Courageous Conversations" program, but these alleged brave race discussions exclude certain topics right off the bat. This is followed up by exercises like the one on white privilege which have pre-destined outcomes. Lastly, if you object to anything, such proves that you need what's being given to you — in order to become "liberated," as Mr. Gonzales said.
An NYC middle school teacher who endured a bias training said her belief in "colorblindness" was being "uprooted": "It feels like I'm in a dystopian novel where all of a sudden being white is bad. All of a sudden, I'm the enemy."
MORE: NYC schools chief accused of creating environment 'hostile' to white people
MORE: The poison that is the 'Courageous Conversation' reverse-racism program
IMAGE: Stacie DaPonte / Flickr.com
Like The College Fix on Facebook / Follow us on Twitter