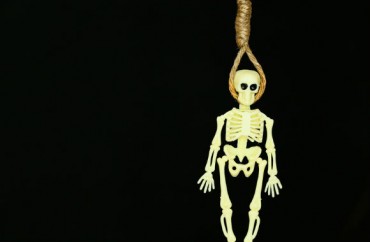 No 'inappropriate' images next year, administration promises
At New York University's law school, students have gone beyond complaining about offensive Halloween costumes.
The Office of Student Affairs is facing a backlash over its decorations for the annual Halloween party, the Fall Ball, which two student groups claimed were "triggering" and "harmful" due to their violent imagery.
It's a role reversal from the increasingly typical Halloween situation in which an administration warns students to avoid offensive Halloween costumes: The NYU Law administration has already promised not to use "inappropriate" imagery at next year's gala.
In letters obtained by UCLA Law Prof. Eugene Volokh, who blogs for The Washington Post, the NYU Mental Health Law and Justice Association (MHLJA) and Latino Law Students Association accused the law school of making light of suicide, depression and relationship violence.
Washington Square News, NYU's independent student paper, said the MHLJA letter was sent to the entire NYU listserv, not just the law school's.
MHLJA said the video projections on the windows were apparently intended to be "spooky," but one "displayed a man dying by suicide" and others illustrated "violence against women and interpersonal violence."
The group said it had photos of the images, should NYU Law "need corroboration" of its claims. MHLJA's board members did not respond to Fix inquiries requesting to see its photos and to comment.
The images do not appear to be publicly posted on any popular photo-sharing website, including Facebook, Twitter and Instagram. Washington Square News interviewed an MHLJA official but apparently did not ask for the images.
The law school's Fall Ball page and its Facebook feed primarily include photos of students in silly or scary costumes, but none where the window projections are in focus.
The MHLJA letter to Dean Trevor Morrison and Dean of Students Jason Belk highlighted the prevalence of suicide on college campuses.
"Our campus should be a safe space for all members of our community, particularly those who are most vulnerable," it wrote. "Violence and the difficult mental health challenges people face are not a joke, a gimmick, or a spectacle."
MHLJA asked for a public apology to those triggered by the party and a commitment from the deans that "all future events, communications, and programs are verified to avoid harm to members of the mental health community and those whose lives have been touched by suicide."
Yet the co-president of NYU's chapter of Active Minds, a group that aims to "de-stigmatize mental health issues on college campuses," told Washington Square News that "most people, including myself, take Halloween fun at face value."
Co-President Seema Chaudhari acknowledged that she hadn't seen the images and said she was "glad this issue is up for discussion" to highlight the history of mental healthcare.
Latinos weigh in for the sake of 'intersectionality'
The Latino Law Students Association (LaLSA) sent a letter to the "NYU Law Community" following the MHLJA letter, agreeing that the Halloween decorations were "distasteful and triggering" and expressing its "solidarity" via "intersectionality."
The group said that "Latinx" – its gender-neutral term for Latinos – have "significant rates of suicide and chronic depression" and "face numerous barriers to accessing high-quality and culturally competent mental health care and treatment," without citing any Latino-specific statistics.
It said "an estimated" 40 percent of law students experience depression by the time they graduate, and that lawyers have the fourth-highest suicide rate among professions.
LaLSA's co-chairs did not respond to Fix inquiries for comment.
The administration didn't challenge the student groups, with a spokesman telling Washington Square News that "some of the imagery at this year's Fall Ball was inappropriate and it won't be used again."
Dean Belk "is always accessible for members of our student community to raise concerns and he will be meeting with those who did so in this matter," spokesman Michael Orey said.
Halloween is 'its own trigger warning'
Not everyone was convinced the decorations were triggering.
Writing for the independent student-run blog NYU Local, student Ilana Berger said that around Halloween, "it might be reasonable to expect that people go out prepared to see gruesome things that might make them uncomfortable."
Though she called censorship a "dangerous, slippery, slope [sic], and again, it is impossible to know exactly what might trigger someone," Berger seemed to contradict herself: "If there is any suspicion that something as trivial as a Halloween decoration could cause so much trouble, it would be best to forgo it."
On Twitter, Guardian columnist Jill Filipovic mocked the NYU Law brouhaha in relation to the "hundreds of thousands in debt" with which its students graduate. The annual cost of attendance for NYU, including tuition, fees, and room and board, is $65,860.
NYU Law saddles its students with hundreds of thousands in debt, but let's outrage over Halloween being triggering. https://t.co/scY9qZMDHI

— Jill Filipovic (@JillFilipovic) November 7, 2015
At the legal blog Above the Law, two blog staffers debated the issue.
Not only were the video projections separate from any educational purpose, but "images of vampires, monsters, ghosts or other" scary Halloween decorations are not "epidemics on campuses" like suicide is, writer Kathryn Rubino wrote.
Editor Joe Patrice called himself "sympathetic to the culture of 'trigger warnings'" but said everything about Halloween "revolves around death … and more usually violent death at the hands of mental illness," making the holiday "its own trigger warning."
Like The College Fix on Facebook / Follow us on Twitter
IMAGE: curraheeshutter/Shutterstock