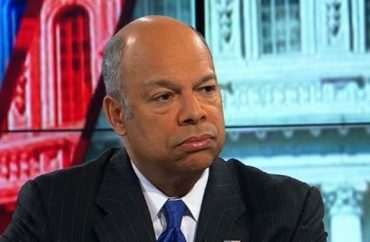 Former Secretary of Homeland Security Jeh Johnson recently withdrew from being commencement speaker at Vassar College following student outrage against his border policies.
Johnson, a cabinet member during the Obama Administration, previously accepted an invitation from Vassar President Elizabeth Bradley to be the 2022 commencement speaker at the private liberal arts college in Poughkeepsie, New York.
He bowed out one week later after hearing about students opposing his approach to immigration, including opening detention centers at the border.
"I believe commencements should be joyous, tension-free events for graduates and their families. In my public life I managed many difficult and contentious issues. In my private life I do not seek to be the object of controversy or speak at a commencement where students will object to me," Johnson said in a Feb. 14 statement.
He called immigration "a deep and painful issue," briefly recounting his job overseeing the matter.
"Whether immigration, border security or national security, leaders with a sense of humanity are often faced with less than perfect choices, sometimes nothing but ugly choices, but we always try to do the right thing."
Amanita Duga-Carroll, vice president for communications at Vassar, told The College Fix in a Mar. 4 email that Johnson made the decision without influence from Vassar's administration.
"At no point did the college reach out to Secretary Johnson to request he withdraw as Commencement speaker, nor did we ever rescind the invitation. The decision to withdraw was wholly his own and we felt we needed to respect his decision," Duga-Carroll said.
Vassar's campus newspaper, The Miscellany News, took down a Feb. 16 article about outrage against Johnson being commencement speaker, but an archived copy contains details about the backlash.
"For many students—particularly the graduating class—the selection of Johnson as this year's commencement speaker was perceived as a strikingly tone-deaf blow to Vassar's integrity and community values," the article reported, noting that "students of color feel especially impacted by Johnson's policies."
Citing Johnson's handling of immigration under the Obama administration, the article said the opposition was caused by Johnson opening "detention centers at the US-Mexican border to combat the influx of immigrants seeking asylum from violence in Central and South America."
One student told the newspaper: "It's not surprising that Vassar, a predominantly white institution, would invite someone who played a key role in the Obama administration by exacting violence on marginalized peoples in the Middle East and at the border in the name of protecting US imperial interests."
In addition to the article, Duga-Carroll told The College Fix that administration heard about student opposition through emails and face-to-face discussions.
Johnson is currently a partner at the law firm Paul, Weiss, Rifkind, Wharton & Garrison in New York. He was initially invited to speak at Vassar in honor of his father, Jeh Vincent Johnson, who taught at the college from 1964 to 2002 and designed multiple buildings on campus.
Jeh Charles Johnson was chosen as commencement speaker to celebrate the life and legacy of Jeh Vincent Johnson, who passed away last January. Vassar also planned to dedicate a building designed by the senior Johnson as the Jeh Vincent Johnson ALANA Cultural Center.
"Our speaker's father was a part of the Vassar family for nearly four decades, and his son's achievements as an attorney and a longtime public servant can be an inspiration to our graduates," said Bradley in a Feb. 7 statement announcing him as speaker.
Johnson did not respond to a request for comment from The College Fix about his withdrawal.
In 2019, Johnson withdrew as commencement speaker at the University of Southern California's law school after he heard that it was causing student criticism. He faced similar backlash from students at Georgetown's School of Foreign Service in 2016 after the school chose him as a keynote speaker.
According to Duga-Carroll, Johnson is still a member of the "extended Vassar family" since he grew up on campus and teaches as a guest in Bradley's Strategic Thinking and Global Affairs course.
On February 23, Vassar named John Leguizamo as the new commencement speaker to replace Johnson. A famous actor and director, Leguizamo is married to a Vassar graduate and has a son currently attending the college.
MORE: Students demand homeland secretary's disinvitation, say he makes them feel unsafe
Like The College Fix on Facebook / Follow us on Twitter