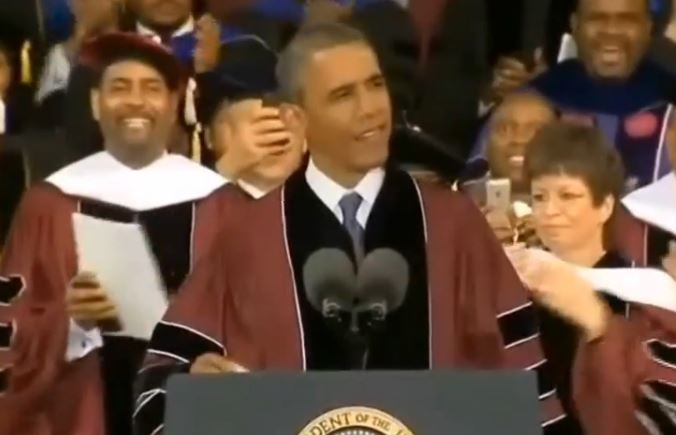 President Barack Obama frequently sounded like Ronald Reagan during a commencement speech at Morehouse College on Sunday, calling for better family values among the black community and personal responsibility over complaints about racism.
Morehouse College is a historically black, all-male university in Georgia, where the Rev. Dr. Martin Luther King Jr. also attended.
During his speech to the Class of 2013, Obama promoted the ideals of persistence and hard work, and told graduates not to play the blame game when things don't go their way, not to think everything is just about "trying to keep a black man down."
"Barriers have come tumbling down, new doors of opportunity have swung open; laws, hearts, and minds have been changed to the point where someone who looks like you can serve as President of the United States," Obama said.
He also told them that, while times were tough for black men decades ago – and racism still exists today – it's time to step up to the plate and take care of business. To let go of the past and take charge of the future. Don't rely on hand outs. Don't blame racism.
"There's no longer any room for excuses," Obama said. "… In today's hyperconnected, hypercompetitive world, with a billion young people from China and India and Brazil entering the global workforce alongside you, nobody is going to give you anything you haven't earned. And whatever hardships you may experience because of your race, they pale in comparison to the hardships previous generations endured – and overcame."
He delved into family values, and told the young men to stand by their future wives and children as husbands, fathers and role models. He mentioned church, hard work and perseverance.
"I was raised by a heroic single mother and wonderful grandparents who made incredible sacrifices for me," he said. "And I know there are moms and grandparents here today who did the same thing for all of you. But I still wish I had a father who was not only present, but involved. And so my whole life, I've tried to be for Michelle and my girls what my father wasn't for my mother and me. I've tried to be a better husband, a better father, and a better man."
"It's hard work that demands your constant attention, and frequent sacrifice. And Michelle will be the first to tell you that I'm not perfect. Even now, I'm still learning how to be the best husband and father I can be. Because success in everything else is unfulfilling if we fail at family."
Despite the promising and personal speech, there were still themes expected from Obama. At one point he mentioned the notion that "as an African-American, you have to work twice as hard as anyone else if you want to get by."
But he followed that up with citing the American Dream: "But if you stay hungry, keep hustling, keep on your grind and get other folks to do the same – nobody can stop you."
True to form, Obama also cited perceived discriminations.
"Many of you know what it's like to be an outsider; to be marginalized; to feel the sting of discrimination," he said, and went on to list "Hispanic Americans," "Gay and lesbian Americans," "Muslim Americans" and "women."
But he didn't follow it up with whining.
"Recognize the burdens you carry with you, but resist the temptation to use them as excuses," he said. "Transform the way we think about manhood … set higher standards for yourselves and others."
"That's what being an American is about. Success may not come quickly or easily. But if you strive to do what's right; if you work harder and dream bigger; if you set an example in your own lives and do your part to help meet the challenges of our time, then I am confident that, together, we will continue the never-ending task of perfecting our union."
"Congratulations, class of 2013. God bless you, and God bless the United States of America."
Amen to that.
Jennifer Kabbany is associate editor of The College Fix.
CLICK HERE for a full transcript of Obama's Morehouse College speech.
CLICK HERE to Like The College Fix on Facebook.
IMAGE: YouTube Screenshot