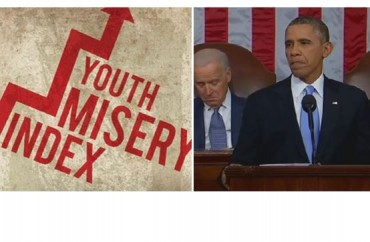 In the last two presidential elections, young voters served as a key demographic that helped catapult Barack Obama to the White House. What has he done for millennials in return? According to a new analysis, made them more miserable than ever.
Young America's Foundation on Wednesday released its annual Youth Misery Index, calculated by adding youth unemployment, student loan debt, and national debt (per capita) numbers.
Today the youth unemployment rate exceeds 16 percent, and the average student in the class of 2015 graduated with a record $35,000 in student loan debt; national debt per capita, "a remarkable burden
that will fall squarely on the shoulders of millennials," is just under $59,000, the foundation reports.
With that, the index has spiked to a record high of 109.9 this year, up from 106.5 last January, and 83.5 in 2009 when President Obama took office, the foundation reports.
"President Obama courted the youth vote aggressively in 2008 and 2012 and has since allowed millennials to sink deeper into debt and unemployment over the course of his administration," Emily Jashinsky, a spokeswoman for the foundation, told The College Fix in an email. "The [index's] upward trajectory since 2009 essentially debunks any notion peddled by liberals that they have the solution to the critical challenges facing young people."
RELATED: Millennial member of Congress says outdated regulations are crushing her generation
A recent Young America's Foundation poll found the top three issues college students care about most are education, student loan debt, and jobs, so "despite having two terms to do so, President Obama has unequivocally failed to address Young Americans' highest priorities," the foundation stated in releasing its analysis.
"President Obama's tenure has been disastrous for young Americans," said Ron Robinson, president of Young America's Foundation, in a news release.
RELATED: Improve the terrible student-loan system with private investors, Purdue's Mitch Daniels tells Congress
Like The College Fix on Facebook / Follow us on Twitter
IMAGES: Young America's Foundation