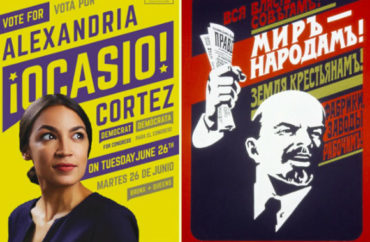 Progressive magazine fails to mention panel discussion on fighting climate change
Everyone's favorite precocious hard-left congresswoman does not believe in debate when it comes to climate change.
Alexandria Ocasio-Cortez is even willing to use her enormous social-media bully pulpit to shut down debate that is made possible by conference funding.
The Bronx Democrat turned her wrath on big tech companies last week, but not for spying on Americans, promoting internal groupthink or censoring information at the government's request.
AOC, as she's popularly known, is mad that they sponsored a libertarian student conference.
She responded to a report by the progressive magazine Mother Jones that Google donated $25,000, and Facebook and Microsoft $10,000 each, to sponsor Students for Liberty's LibertyCon.
That is unacceptable for leftists because LibertyCon's other sponsors include "three groups known for their work attacking climate change science and trying to undermine efforts to reduce carbon emissions," including the CO2 Coalition, which ran an exhibit and sponsored a panel discussion on the benefits of carbon dioxide.
In her Friday letter to the three tech CEOs, jointly written with Maine Democratic Rep. Chellie Pingree, Ocasio-Cortez scolded the companies for going off-message by sponsoring a conference "that included a session denying established science on climate change."
Even though Google, Facebook and Microsoft have all taken steps to combat climate change, "the example you have set promoting sustainability and evidence-based science is compromised by your implicit support of the session organized at LibertyCon," they wrote:
[G]iven the magnitude and urgency of the climate crisis that we are now facing, we find it imperative to ensure that the climate-related views espoused at LibertyCon do not reflect the values of your companies going forward.

As you are well aware, the spreading of misinformation can be dangerous to our society. Today's coordinated campaign to deny climate change, or to put a positive spin on its effects, is not unlike that of the tobacco companies … We cannot afford to make the same mistake with climate change.
MORE: Canadian lawmakers visit LibertyCon to get allies for free-speech fight
We cannot allow the financing of misinformation campaigns to shape our democracy.

We can disagree on policy, but climate change is real. Period.

Proud to have joined @chelliepingree on this letter asking for greater responsibility to our democracy and planet. https://t.co/5hLsg1FmgT

— Alexandria Ocasio-Cortez (@AOC) January 28, 2019
Students for Liberty responded with an indignant email blast Tuesday, accusing Ocasio-Cortez and Pingree of a "smear campaign" that tries to "control what dialogue is acceptable within society."
They are trying to "shame sponsors for taking part in discussions well beyond the topic of environmental policy," reflecting the libertarian organization's "culture of open dialogue and debate":
We hold the value of free speech dear and often invite speakers and organizations with opposing viewpoints to provide a platform for respectful debate. …

Trying to denormalize Students For Liberty and pressuring our generous sponsors to stop engaging with us at LibertyCon is a common tactic of extremist ideas and actors.

Attempting to discredit those who are willing to participate in civil and open discussion across the political spectrum is a tactic to ensure there is only one side represented.
In a longer response to the lawmakers and Mother Jones Monday night, SFL said "climate change denial is not a policy position or initiative of Students For Liberty":
When it comes to climate change policy, Students For Liberty focuses more on proactive solutions to climate change instead of the debate on whether it exists. What Mother Jones left out of its report is that the conference also featured a high profile debate on the use of carbon taxes to combat climate change and that the conference is also sponsored by organizations that urge against increased C02 emissions.
CEO Wolf von Laer said the tech companies sponsored the conference "to participate in our technology policy sessions, not to debate climate change solutions, or the countless other topics covered at LibertyCon."
The lawmakers should "engage in productive debates about pragmatic climate change policies rather than using their positions of power to execute a smear campaign," he said.
Read the Mother Jones report, lawmakers' letter to CEOs and SFL's responses.
MORE: Ocasio-Cortez calls Kavanaugh liar in speech to college students
IMAGE: Jonathan Last/The Bulwark
Like The College Fix on Facebook / Follow us on Twitter