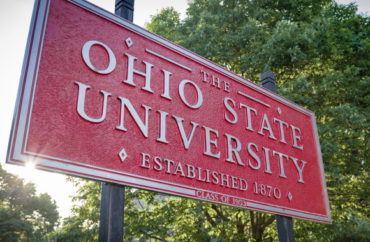 A massive higher education reform bill in Ohio to ban mandatory DEI training and ideological litmus tests and enact post-tenure review is one step closer to becoming law, but faces staunch opposition from opponents who argue it would stifle professors' academic freedom and ensconce conservative ideas on campus.
The Ohio Higher Education Enhancement Act, which would prohibit most mandatory diversity, equity and inclusion programs and trainings, has passed the Senate and was tucked into a major two-year Senate budget proposal up for a vote this week, the Columbus Dispatch reported.
The act, Senate Bill 83, would also require universities to "demonstrate intellectual diversity for course approval" and "encourage students to reach their own conclusions about all controversial beliefs or policies and shall not seek to inculcate any social, political, or religious point of view."
And it would ban political and ideological litmus tests, such as mandatory diversity statements, in hiring, promotion and admissions decisions.
For example, currently scholars seeking a job in Ohio State University's College of Engineering must pledge their allegiance to diversity, equity and inclusion as part of the process.
Republican state Sen Jerry Cirino, the bill's sponsor, pointed out in an op-ed in the Columbus Dispatch the legislation would also eliminate faculty labor strikes, establish post-tenure periodic review, and require full disclosure of donations made by People's Republic of China affiliates.
"The purpose of Senate Bill 83 is quite simple: It ensures free expression on campus and in the classroom at Ohio's public universities and colleges," the lawmaker wrote in his April 4 op-ed.
The bill states that it does not prohibit faculty or students "from classroom instruction, discussion, or debate, so long as faculty members remain committed to expressing intellectual diversity and allowing intellectual diversity to be expressed."
Cirino also co-sponsored Senate Bill 117 to establish constitutional studies at two of the state's major universities.
It would create the Salmon P. Chase Center for Civics, Culture, and Society at Ohio State University and the Institute of American Constitutional Thought and Leadership at the University of Toledo's College of Law.
Opponents of both bills accuse conservatives of trying to create right-wing safe spaces on college campuses and shelter students from opposing views.
Ohio State University Professor Pranav Jani told the Ohio Capital Journal that Republican lawmakers "want conservative and right-wing ideas to be far more prominent in the lives of young people than they are."
A statement from the Ohio State University Board of Trustees argues S.B. 83 would weaken academic rigor and impose extensive and expensive new reporting mandates.
"Decisions on these issues and how they are resolved could impact our university's ability to attract the best students, faculty and researchers, and ultimately the quality of higher education at all Ohio public universities," the May 16 statement read.
S.B. 83's opponents also label it an educational gag order.
Jeremy Young, Freedom to Learn program director, said in a statement it "would not only legalize censorship in Ohio's public universities, but would mandate it. And it represents an extraordinary and unnecessary level of micromanagement of a university's affairs."
Cirino called the response "hysteria and hyperbolic screams of anguish."
"The bill places NO restrictions or prohibitions on ANY curricula or classroom material. The bill does the opposite of eliminating academic freedom: it ensures that freedom for students, as well as professors," he wrote in his op-ed.
Cirino argued the lies "stir up fear and hate mongering." He accused academics of wanting to "protect their woke fiefdom so they can continue to churn out like-minded and intolerant opponents of intellectual diversity."
The bill's goal is to simply ensure that "applicants don't have to express university-approved positions in order to be eligible in all hiring, promotion, and admissions decisions," he wrote.
But FIRE, the Foundation for Individual Rights and Expression, expressed concerns about S.B. 83 in a statement provided to The College Fix.
The Ohio Higher Education Enhancement Act "currently contains several provisions that threaten free speech and academic freedom. For example, if enacted, it would unconstitutionally regulate classroom speech by banning teaching on specific topics," the civil liberties group told The Fix.
FIRE officials are in communication with the bill's sponsors, and said they hope legislators will make revisions that align with the principles of academic freedom and the First Amendment.
MORE: Ohio legislators propose campus 'intellectual diversity' centers
IMAGE: Shutterstock
Like The College Fix on Facebook / Follow us on Twitter