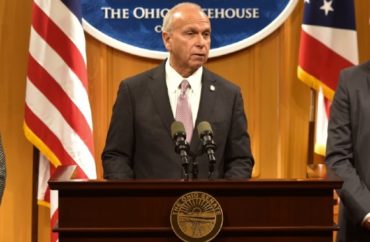 Ohio AAUP says there's plenty of free debate on college campuses
Pending legislation in Ohio would create "intellectual diversity" centers at Ohio State University and the University of Toledo.
The centers would give students the option to learn from a variety of views, but this idea has still drawn opposition from some academics, including the Ohio American Association of University Professors.
Senate Bill 117, which has been submitted to the Senate Committee, listed various goals, including to "to create a community dedicated to an ethic and civil and free inquiry" and to "educate students by means of free, open, and rigorous intellectual inquiry to seek the truth."
The idea for the center at the University of Toledo came from law professor Lee Strang, who had an appointment at a similar center at Princeton University run by Professor Robert George.
"When I was a visiting scholar at the James Madison Program at Princeton University, it was an intentional place for a wide variety of viewpoints by scholars, students, and members of the community," Strang told The College Fix on a phone call. "It had been a long time since I experienced such a rich, diverse, academic environment. I wanted to create something like that for my faculty and students in Ohio."
"SB 117 provides a structure and resources to create these sort of institutional spaces for scholars, students, and the community, at Ohio's public universities," Strang said. "Public universities were created by Ohio citizens for Ohio citizens, so they should include Ohio's rich diversity of viewpoints to enhance student education and faculty academic discussion."
Republican state senators Jerry Cirino and Rob McColley stated the intellectual diversity centers would assist in Ohio universities changing the current "structural preponderance of one line of thought," according to the Ohio Capital Journal.
"With the passage of this legislation, we are giving students and their parents' options within the market to choose an education that is best suited for them," Cirino (pictured) stated.
Both intellectual diversity centers could be effective as of this fall semester.
If passed, the bill would provide the University of Toledo $1 million in 2024 and $2 million in 2025 for the center. Ohio State would receive $5 million in 2024 and 2025 for the center.
However, some academics have come out against the center.
OSU Professor Richard Fletcher called the legislation "part of a coordinated, well-funded national movement to turn institutions of higher education into the breeding grounds of a reactionary, extreme right-wing ideology" with the goal of advancing "a form of social change grounded in white cultural hegemony that sets to negate the advances our country has made in civil rights and social justice since the 1960s."
Professor Fletcher compared the legislation to a statue of Christopher Columbus found in the state house. He called both "a relic of the past – a past of violence, erasure, and exclusion that any citizen who cares for creating a just and diverse world does not want to return to."
He referred The Fix to his submitted opposition statement and declined to answer questions because he was traveling.
The Fix asked Fletcher what his specific objections were and if as a general rule he thinks universities should seek to provide students with opportunities to learn about a variety of viewpoints.
The Fix reached out to another opposing professor, University of Cincinnati's Stephen Mockabee, twice via email, to ask for his specific objections to the bill, but received no response in the past week.
MORE: UCincinnati student says she receive zero for saying 'biological women'
He represented the Ohio AAUP in opposition to the legislation.
"We have chosen to agree to disagree with the sponsors of the bill over the need for new institutes to create and facilitate 'intellectual diversity' at our public colleges and universities," Mockabee said. "Ohio's institutions of higher education are already open marketplaces of ideas where free inquiry is ongoing."
Mockabee also testified in opposition based on the cost.
"At a time when college affordability is a significant concern for Ohio families, we owe it to Ohioans to be sure that funds allocated by the legislature are being spent in ways that maximize their positive impact," Mockabee stated.
The annual budget for OSU is $8.2 billion, meaning that a $5 million allocation would equate to .06 percent of the total spending.
The Fix asked Mockabee if he would have the same opposition to the bill if the funding levels for other programs remained the same.
MORE: 92 percent of Ohio faculty donations went to Democrats
IMAGE: Ohio Senate
Like The College Fix on Facebook / Follow us on Twitter