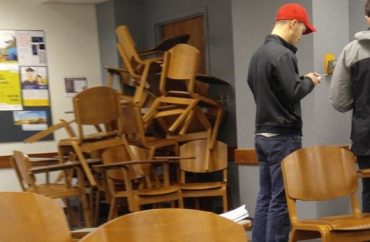 On Monday, a group of Second Amendment advocates unaffiliated with Ohio State held a "No More Sitting Ducks!" open-carry walk on campus to advocate for students' concealed carry rights.
Predictably, many of my perpetually apoplectic peers took to the Ohio State snapchat story to voice their grievances over the fact that it was "way too early" to have guns on campus in the wake of an attack by fellow Buckeye Abdul Razak Ali Artan.
The 18-year-old student last week rammed his car into a group of people on the Columbus campus before exiting the vehicle and charging others with a knife. He injured nearly a dozen before an OSU police officer shot and killed him.
To those who said it was too early to have guns on campus — the terrorist (yes, I said it!) — used a kitchen knife and a car to carry out his attack. Following this logic, was it too early for the dining halls to set out knives, or should we just stick to forks for a while? Was it dangerous and un-American to get into your car and drive to campus, and watch cars whiz by as you walked to class, or was it simply too soon?
When the attack took place, I was at my apartment window watching the horrific scene unfold. I remember feeling an overwhelming sense of terror as I nervously rushed to text all of my friends who spend their time in that area. I felt tears burning in my eyes as I thought about my defenseless peers, sheltering in place, essentially sitting ducks.
It was a gun on campus that saved lives. Without that brave officer and his firearm, who knows how many students Artan could have or would have injured, and possibly killed, before being stopped.
MORE: Ohio State stabber's name added to list of nonwhites wrongly killed by police
I would feel, and undoubtedly be, much safer walking around late at night with someone concealed carrying, ready to protect and defend should the need arise.
Alas, Ohio State is designated as a gun-free zone. I am left to react the whims of an attacker who cares not about the laws dictated by haughty politicians and campus administrators.
What did my school tell us when the attack first took place? "Run Hide Fight." But fight back with what, exactly?
Buckeye Alert: Active Shooter on campus. Run Hide Fight. Watts Hall. 19th and College.

— OSU Emergency Mngmnt (@OSU_EMFP) November 28, 2016
I, like so many other college students and Americans, have been stripped of my basic right to "keep and bear arms."
Take Colorado for example. Campus carry has been legal there since 2003, and yet there have been no mass shootings on campuses, and no crimes committed by permit-holders (barring one accidental discharge incident in which no one was hurt and the employee was fired), Breitbart reports.
Also, it has been reported that in 26 sexual assault cases in Colorado, women had used their firearms to protect themselves, preventing rape and further injury to themselves, according to The Washington Post and U.S. Census Bureau.
As a woman and college student, I deserve the same right to protect myself.
MORE: OSU student says Left is 'more scared of Trump than ISIS'
Like The College Fix on Facebook / Follow us on Twitter
IMAGE: Twitter screenshot