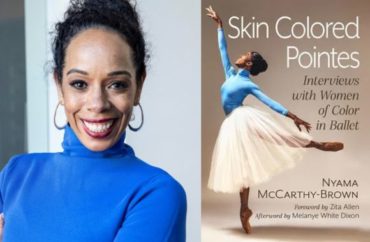 Ohio State appoints 'nationally recognized culturally sustaining educator' as new 'artist laureate'
An "anti-racist dance" instructor is set to start at The Ohio State University this upcoming semester as the school's new "artist laureate."
The university named Nyama McCarthy-Brown its first "artist laureate." She is also an associate professor at the university and has taught there since 2018.
She received awards for "developing anti-racist dance curricula" and "is a nationally recognized culturally sustaining educator," the university stated in a news release. Professor McCarthy-Brown "is also an active consultant and workshop facilitator for diversifying dance curricula for organizations."
She "will create a traveling dance production inspired by her book, 'Skin Colored Pointes: Interviews of Women of Color in Ballet,'" the university stated. "The production, centered on themes of trailblazing, opportunity and allyship, will disrupt ideas of who gets to dance while inviting audiences to identify and demonstrate expressions of allyship and inclusion through words, movement or technology."
The artist laureate declined to answer questions from The College Fix about what her curriculum includes, how community dancing supports inclusivity and how she plans to be a voice for underrepresented communities.
"The answers seem to be in the article written, I am unclear as to what additional information is needed," she said, in reference to a student newspaper article. She also said she was busy in New Orleans at a conference.
McCarthy-Brown then followed up the next day on June 1 to ask The Fix to correct a quote in The Lantern story. "I would just say that the paragraph that starts with the quote, 'We research the lived experience as a people…,' is confusing to me," the scholar wrote. "Please change to, 'I research the lived experience of people, to better understand humanity, and the human experience includes the body and how we use the body.'"
MORE: University of Utah scrubs 'anti-racist code of conduct'
A former New York University professor and critic of wokeness said an "anti-racist dance curriculum" wrongly implied that dance is racist.
Professor Michael Rectenwald told The Fix in an email interview that the "Ohio State's development of an 'anti-racist' dance curriculum suggests that dance has been 'racist' to begin with."
"But this is belied by the fact that almost every genre of dance has featured major black choreographers, including Pearl Primus, Katherine Dunham, Alivin Ailey, Bill T. Jones, Bebe Miller, and others," Rectenwald said.
Rectenwald told The Fix "this 'anti-racist' curriculum is part of the anti-whiteness movement and simply another means by which all European influence is being gutted from the arts and humanities."
"This process has been underway for some time and will continue unabated, until 'whiteness' is utterly eradicated," he said. "The irony is that such staged performances as dance and theater derive from Western culture. Thus, 'anti-racist' dance and theater represents the epitome of 'cultural appropriation.'"
Ohio State is not the only university to create "anti-racist" programs or positions. For example, the University of California developed an "anti-racist" job performance review, as previously reported by The Fix. Tufts University also now offers a certificate in "anti-racist curatorial practices," as The Fix previously reported.
MORE: Famed Shakespeare's Globe theatre hosts 'Anti-Racist Shakespeare'
IMAGES: Ohio State University; McFarland Books
Like The College Fix on Facebook / Follow us on Twitter