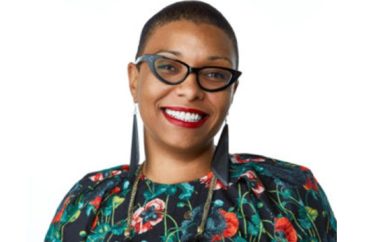 Program director left curator job after seeing 'how nefarious the culture of white supremacy in art museums really is'
Tufts University students can now take advantage of a program in "anti-racist" approaches to museum curation.
The university's professor and director of curatorial practices, Kelli Morgan, created the Anti-Racist Curatorial Practice certificate to give students an opportunity to learn about rooting out racism in museums.
"Interest in the program is high. Currently, I have one student fully enrolled and am working from a list of approximately 120 potential applicants," Morgan told The College Fix via email. That one student is the campus humanist chaplain Anthony Cruz Pantojas, according to The Tufts Daily. Pantojas goes by "they" pronouns.
The Fix also asked Morgan (pictured) about her personal experiences with racism in museums, but she deferred to an essay she wrote in 2020, "To Bear Witness: Real Talk about White Supremacy in Art Museums Today."
"After six years of working as a museum curator—at a small, a mid-size, and, currently, a very large institution—I've learned how nefarious the culture of white supremacy in art museums really is," she wrote. "The PTSD from racial trauma that many of my BIPOC colleagues and I are carrying is a clear indication that art museums are absolutely not in solidarity with BIPOC people and their communities as they claim to be."
Morgan hopes to help others avoid these problems through the certificate program. According to Tufts University's webpage for the program, students may apply for the program in the spring until December 15.
"The program explores the fundamentals of anti-racist, social practice, and community-centered strategies used by artists, scholars, and curators of color, and how these philosophies have re-shaped both art history and the museum over time," according to the program's webpage.
MORE: Penn to stop displaying 190-year-old skull collection to fight racism
Students will "learn the most effective methods for divesting from traditional museum practices that are rooted in white colonialist and imperialist histories" as well as "gain tools for applying anti-racist curatorial methods to dismantle systemic oppression within cultural institutions."
The online program can be completed in one or two years. It requires students to take the following courses: Museums Today: Mission and Function, Whiteness and Empire, Curating as Community Organizing, Curatorial Approaches to Collections Management and Organizational Change.
Morgan is currently teaching Curatorial Approaches, according to her faculty bio. Next spring, she will teach on Art, Whiteness and empire.
According to the course description, Art, Whiteness, and Empire will teach students "the history of anti-racist pedagogies developed within Indigenous and Black intellectual tradition" and "how to interpret historical objects through a non-white lens."
The Fix searched for the other four courses on the university's website, but they could not be found.
The core topics that the program will focus on are art museum history, "counter-hegemonic approaches," "ethics and equity," "connection to practice" and "community impact."
The program's website says that the program will help students "gain a comparative understanding of museum development, art history, and curatorial practice and the ways that each traditionally function in service to larger discriminatory systems."
One former New York University professor said the new certificate represents how critical race theory continues to enter academic fields.
"'Anti-Racist Curatorial Practice' represents the incursion of Critical Race Theory (CRT) into yet another field of study, this time museum curation," former NYU professor Michael Rectenwald told The Fix.
"It is premised on the flawed notion that museum curation must be racist to begin with, because 'systemic racism' is purportedly to be found everywhere," he told The Fix via email. "Thus, instead of learning about the history of art, students will be indoctrinated into an ideology."
"It will further lower the bar as to what constitutes art, while giving students a false sense of having acquired knowledge," he said.
MORE: Brown University students want Roman statues removed due to 'white supremacy'
IMAGE: Burnaway.org
Like The College Fix on Facebook / Follow us on Twitter