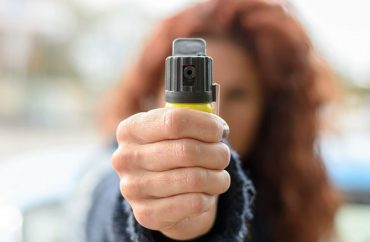 Demanding #NoMoreVictims through unfair dodgeball
Less than three months after kicking off its campaign to educate students about their self-defense rights on campus, Young Americans for Liberty has its first known victory.
The Capital University chapter of the libertarian youth organization convinced its administration to overturn a campus ban on nonlethal weapons such as pepper spray, following a rash of attacks against students who were prohibited from effectively defending themselves.
YAL launched the "Your Life. Your Right" campaign in October to start a conversation about the self-defense rights of students and educate them about the dangers of big government, Executive Director Cliff Maloney told Red Alert Politics.
The organization is giving out small grants to campus chapters and recommending eye-catching ways to draw student interest, including an intentionally one-sided dodgeball game.
The chapter at Capital University, a Lutheran-affiliated liberal arts school, saw early success because two of its members were elected to the student senate, Chapter President Garrett Kehr told The College Fix in an email.
They "introduced and passed legislation calling on the university to review the self defense policies," he said. Approved in mid-October, the resolution asks the administration to "reevaluate and define the ability of the student to defend oneself on and around campus."
It cites several incidents, including a kidnapping, in which students or their property were attacked or threatened. The resolution says students are "not sure how they are able to defend themselves" under campus policies.
Capital University Student Senate resolution in favor of self-defense on campus by The College Fix on Scribd
A week later, university officials informed representatives of the student senate that a revised student handbook would let students carry pepper spray on campus and the current policy would not be enforced.
The YAL campaign is spurred by an increase in crime in gun-free zones on campuses, leading students to demand greater rights to self-defense.
MORE: Move over boomers, millennials have to 'transform' America
Matthew Boyer, director of communications for YAL, told The Fix in an email that 150 chapters have "already executed" the campaign on campus by hosting activism events. "By the end of the semester, another 100 chapters will have executed activism events," he said.
Boyer noted that the Capital University chapter members were able to convince their fellow student senators to "unanimously" support the resolution by "educating" them about self-defense.
Other YAL chapters have yet to succeed in their campaigns to change school policies on self-defense.
At Marshall University in West Virginia, an explicitly gun-free zone, the YAL chapter collected 150 signatures to protest "Marshall's restrictive self-defense policies," Boyer said.
Chapter President Nathan Korne and other YAL leaders set up a dodgeball event as a form of protest.
MORE: Phoenix-area colleges ditch speech codes to settle lawsuit
Their version of the game only allowed one side to use balls, showing how defenseless students are when they don't have anything to use to fight back.
"The right to self-defense will be heard and will be understood on our campus," Korne told The Fix in an email. "We will take to the Student Government meetings, get loud and get as much media attention and support as we can gain."
YAL's Northeastern State University chapter in Oklahoma ran a self-defense campaign in response to violent crime on college campuses, using the campaign's hashtag #NoMoreVictims.
Its campus event drew "over 200 signatures in favor of supporting the peaceful carry of self defense weapons" in about two hours, Oklahoma State Chair and NSU student Rachael Marriott told The Fix in an email.
They will "continue to move toward establishing a sense of freedom," with an ultimate goal of eliminating "gun free zones that become targets for mass attacks," she said. The chapter has more campaign events planned for the upcoming semester.
MORE: Colorado students take aim at free speech zones
Like The College Fix on Facebook / Follow us on Twitter
IMAGE: michaelheim/Shutterstock