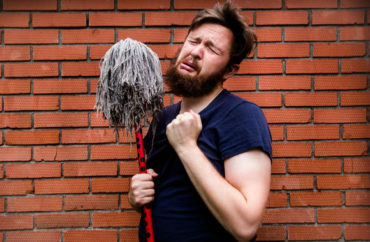 Treats trivial incidents as seriously as dangerous incidents
During my freshmen orientation, the administration forced new students to do a community volunteering activity. My group cleared brush in a field. It was fun because we got to know each other.
Ohio University is far more concerned than my alma mater about students having to do anything.
Student newspaper The Post reports on the allegations that led the administration to punish several Greek-life organizations, and some of them are real head-scratchers.
The Acacia fraternity received a "cease and desist" partly because someone apparently passed along a pledge's academic journal entry to administrators:
"On Monday night all 25 pledges and I went and cleaned 5 houses as part of our 'hazing' and what sounds like a rough time just brought us closer together and made us push through the work," the anonymous journal entry said.
In other words: student enjoys male-bonding exercise, administration pounces.
The other "hazing" allegation came from a sorority member who told the administration "she noticed loud music being played, 'weird' noises coming from the house and new members inside" of Acacia's house, according to the Post. Later she saw an initiated member who told her the weird noses were "the start of our hazing process."
What did the process entail? ¯\_(ツ)_/¯
Acacia remains suspended, though it has unknown "modifications" to its punishment, the same as eight other organizations. (The administration suspended all Interfraternity Council organizations Oct. 3 but has lifted suspensions for all that were not under cease-and-desist orders.)
MORE: WVU denies 'end run' around due process to punish fraternities
Some of the other reports about punished fraternities are just as puzzling.
A graduate student "heard that a member of Alpha Epsilon Pi had to wake up early in the morning to text fraternity members the weather for the day," so he reported it as hazing.
Alpha Kappa Psi got reported by a student who was offered alcohol at an off-campus residence but not forced to drink it: "I felt as though I had to drink to fit in or still be apart of the organization." Translation: Ohio University punishes organizations when students are afraid they won't "fit in."
The most bizarre report sounds like the plot of an episode of Community. It doesn't concern a Greek-life organization but rather the university marching band, known as the Marching 110.
Band members are apparently required to "condition their jackets so they look worn" and "vintage." One member's ex-girlfriend said this happened "via rolling or being pushed down a hill."
The practice was actually authorized following a 2014 meeting between the band director, Richard Suk, and senior administrators, so long as it was "supervised."
The newspaper's description of the reports gets confusing here, possibly because they are full of redactions. It sounds like Suk filed a report because he learned that jacket-dirtying had happened unsupervised:
On the day he filed the report, two student leaders of a band section reported that in Fall Semester 2017 and Fall Semester 2018, players of a redacted section "would gather at a fellow student's house and muddy up a spot in the backyard and dirty up their band jackets."

Activities included wearing the jackets, sliding through the mud, wrestling with each other and rolling around with the jackets on. Both student leaders said it was optional and few chose not to participate.

"I told them that was beside the point and that it did not comply with instructions given," Suk said in the report.
To be clear, many of the other reports detailed by the Post allege actual hazing incidents that are dangerous, humiliating or both.
But the fact that the university applied the hazing label to so many trivial incidents – cleaning houses, getting up early, being offered alcohol, and prematurely aging your jacket – makes a mockery of the dangerous incidents.
MORE: Pledges sue UT for punishing them after flimsy investigation
IMAGE: Yulai Studio/Shutterstock
Like The College Fix on Facebook / Follow us on Twitter