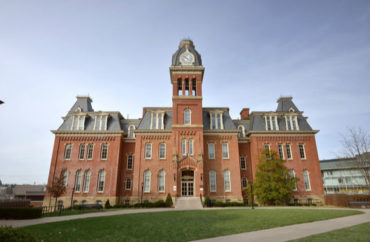 Newly independent fraternities have 'no desire to go back'
"It appears that we simply disagree."
In the space of less than half a page, West Virginia University made clear Thursday that it's done debating whether its recent sanctions on five fraternities amount to double jeopardy and failure to give notice of charges.
The Foundation for Individual Rights in Education has tried to convince the public university for more than a month that it violated the due process rights of fraternities, and continues to threaten the rights of students.
With the two sides at an impasse over the nature of WVU's sanctions – "a response to a history of behavior," as the university claims, or a "re-punishment" as FIRE claims – it's unclear what could happen next.
The five fraternities disassociated themselves from the university last fall and formed their own body, the Independent Interfraternity Council.
Even if FIRE managed to get their sanctions revoked, the fraternities have "no desire to go back," IIFC President Conor Wischmann told The College Fix in a phone interview last week. They felt that the sanctions and social restrictions placed on them were "completely unwarranted."
Despite the public denouncement by WVU President E. Gordon Gee when the fraternities left the university's jurisdiction, all five fraternities saw "a lot of new members join" during fall rush, with another "great turnout at this semester's rush week," Wischmann said.
'Reasonable requirements upon student organizations'
The dispute concerns the university's "Reaching the Summit" plan nearly a year ago, which reviewed the judicial history of Greek life, including adjudicated incidents for which sanctions had already been issued.
The administration challenged FIRE's account of the review just before Christmas, claiming that the civil liberties group did not have a "complete or accurate description of the facts."
The sanctions on the fraternities were "reasonable requirements upon student organizations seeking to be recognized by a University," said the letter by Dean G. Corey Farris, written at the request of President Gee.
Asking a fraternity to participate in a WVU "hazing prevention week" or an "educational program on conflict resolution" is not "unreasonable," Farris said.
He insisted that Reaching the Summit was not "disciplinary" in nature, but rather a "recognition review process separate and apart from any student conduct process."
Each fraternity was given "the information presented to the working group" that reviewed its judicial history – if the fraternity requested it – and each "then had the opportunity to be heard through an appeals process to the University's Provost." Only two fraternities chose to appeal.
Farris also sought to explain a leaked recording of the working group leader, Matthew Richardson, telling Greek organization presidents that student organizations "do not have due process rights."
Regardless of what Richardson said, he was "attempting to explain to students that individuals have different due process rights than student organizations," Farris wrote. He tried to turn FIRE's own guidance against the group, citing distinctions it made between individuals and groups for due process requirements.
WVU is puzzled why FIRE keeps litigating the issue. Only FIRE is asking the university to "restore the fraternities to their prior statuses as registered student organizations," Farris wrote.
MORE: WVU draws legal threat for telling frats they 'do not have due process rights'
Like going to jail with no charges
FIRE was just as baffled by WVU's Dec. 21 response, which it shared in a Jan. 18 blog post. Some of the incidents cited in the Reaching the Summit review "had not been adjudicated at all," and the "only misunderstanding is WVU's willful blindness to basic due process rights," FIRE wrote.
"Nothing in your response contradicts the factual or legal assertions in our letter, nor substantially addresses our concerns about the lack of due process," FIRE wrote in a Jan. 16 response. FIRE cited binding legal precedent, university documents, open records requests and information from the fraternities, while the university left out legal citations altogether, it told Farris.
The sanctions on the fraternities are laid out in the conduct code, meaning they were "disciplinary in nature" regardless of WVU characterizing them as "reasonable," FIRE wrote. "WVU may not characterize its actions as non-disciplinary to make an end run around providing proper procedures" that the university itself promises in writing.
The civil liberties group was incredulous that WVU believes due process is satisfied with after-the-fact opportunities to challenge findings.
"This belies a serious misunderstanding of how notice protects the rights of the accused," the group wrote:
It would be a mockery of due process if those facing deprivations of their rights were first told of their transgressions after receiving the penalty. Under your logic, it would be no issue at all to imprison individuals prior to telling them what crimes they committed, or expect individuals to pay fines before informing them of their infraction.
The taxpayer-funded university has flipped the burden of proof, "requiring respondents to prove their innocence rather than requiring the university to prove their responsibility," the letter continued.
It defended Phi Sigma Kappa's refusal to participate in the student conduct process, given that "the working group had already suspended the fraternity without due process" and WVU refused to reinstate the chapter before the process started.
"Why would any student organization, having been already punished, and knowing full well that its rights would not be protected, choose to participate in student conduct proceedings?" FIRE asked. It called the university's interpretation of Richardson's comments on due process "plainly disingenuous," since both Richardson and WVU are arguing "student groups have no rights."
MORE: Judge scolds public university for withholding 'even a semblance of due process'
WVU refused to comment on FIRE's Jan. 16 letter, telling The Fix on Wednesday that it would be "premature" since FIRE had given the university until Jan. 30 to respond.
Farris responded to FIRE a day later with a two-paragraph letter, stating that "it appears that we simply disagree." The university's Dec. 21 letter was "substantive," he said, contrary to FIRE's characterization that it ignores "the substance of FIRE's concerns."
WVU's sanctions on Greek life were "both legally appropriate and critical to promoting a safe environment," and the university is "puzzled why you continue to demand something [reinstatement] that these individual fraternities do not appear to want," Farris wrote.
"WVU's response fails to substantially engage with our concerns about the abject failure of WVU to provide even the most basic due process rights prior to punishing the groups," Zach Greenberg, who penned both of FIRE's letters to WVU, told The Fix in an email.
"Instead, the university claimed that the suspension [of] a student organization — one of the most severe penalties a university can inflict upon a student group — is not a disciplinary sanction," said Greenberg, program officer for FIRE's Individual Rights Defense Program.
Tell students they're at the 'arbitrary whims of campus administrators'
WVU's repeated argument that the five fraternities haven't asked to be reinstated is a red herring for both FIRE and the IIFC.
"The fraternities dissociated from WVU because of the university's refusal to provide even a semblance of due process prior to punishing the student groups," Greenberg wrote to The Fix.
If the university won't "honor its explicit, written policies guaranteeing student groups due process before the fraternities consider rejoining WVU Greek life," it should clarify to student groups that "they exist a[t] the arbitrary whims of campus administrators," he said.
When the members of the IIFC disassociated from WVU, they were given a 10-year ban. Wischmann, the IIFC president, noted that this wasn't mentioned in WVU's response to FIRE, and acted as further incentive to stay disassociated.
The IIFC is determined to show the administration it can behave itself, which is why it pledged to follow the university's anti-hazing and Title IX guidelines when it left. Wischmann told The Fix "there were no incidents and there were no violations I can name" from fall semester, showing the members are promoting their core launch values of "safety, equality, service, unity, and scholarship."
This is the official opening statement announcing the establishment of the Independent Interfraternity Council in Morgantown, WV. pic.twitter.com/wT3IemTgOg

— Independent IFC (IIFC) (@wvgreeklife) October 9, 2018
MORE: Harvard dean threatened to blackmail all-male clubs with rape claims
MORE: WVU student investigated for 'Border Patrol' outfit
IMAGE: Aspen Photo/Shutterstock
Like The College Fix on Facebook / Follow us on Twitter