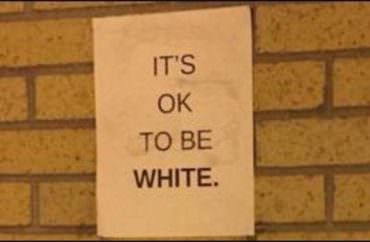 Signs declaring "It's okay to be white" have been spotted on college campuses across America and even in Canada over the last week, prompting outrage and racial tension.
The signs were launched through a coordinated 4chan campaign, whose users spelled out their "game plan" on the anonymous Internet forum board instructing people to post the signs on campuses to prompt the media to go "completely berserk."
The ultimate goal was to show what 4chan users called "normies" that "leftists & journalists hate white people," in turn prompting these middle-of-the-road folks to turn on them in a "massive victory for the right in the culture war."
So far, the signs have indeed prompted major media coverage and some anger on campus. Others have questioned why saying "it's okay to be white" is automatically racist.
Colleges such as Harvard, Princeton, Tulane, Western Washington, Auburn, the University of Kansas and Concordia College have had the posters appear on campus. The University of Alberta and the University of Toronto also saw the signs, as did a high school in Maryland.
The signs are typically quickly removed by campus officials or students after they're discovered.
Even though the campaign has been widely identified as a troll attempt, many took the bait.
"I am deeply disgusted that this organized online campaign to divide university communities across the country has come to our campus. It is shameful that anyone would use these posters to promote a racist agenda," University of Kansas' student body president, Mady Womack, told the Kansan.
The flyers were denounced as "racist" and the school's Multicultural Student Government conveyed an "emergency meeting" over it, according to the report.
At Harvard, the signs came in the form of stickers, where they were condemned as divisive.
The signs also generated a police probe to find the culprit responsible at the University of Alberta in Canada, according to World Net Daily.
"The university is aware of several incidents of racism that have occurred on north campus in recent days… Messaging or displays that target or marginalize any individuals or groups will not be tolerated. We are working with University of Alberta Protective Services to find the parties responsible," President David Turpin said in a statement.
Similarly, officials at the Maryland-based Montgomery Blair High School have launched an investigation to determine whoever put up the flyers there.
"We are taking this seriously and are investigating this incident. Our research so far has indicated that this may be part of a concerted national campaign to foment racial and political tension in our school and community," Principal Renay Johnson said in a letter to parents, reports NBC Washington.
At Concordia, President William Craft took a different approach to the campaign, arguing it is indeed OK to be white, and any other color.
"The affirmation of human dignity means that we are an inclusive community: there is and must be a place here for people of different ethnicities and skin colors, of different faith traditions or no faith traditions, of different nations, of different gender identities, of different political convictions," he said on Facebook. "In that sense, it is indeed okay to be white—and to be black, to be brown, to be Christian, to be Muslim, to be straight, to be gay, to be conservative, to be liberal, and so on. We are stronger for this diversity of identities."
At Auburn University, a group called the Auburn White Student Union posted some of the flyers on its campus. Those have yet to spark much uproar.
⚡️ #ItsOkToBeWhite Worldwide Campaign – Help us end Anti-White hatred, and spread ❤️ for our people!https://t.co/IiThL7mIY8

— Auburn White Student (@AUWSU) November 1, 2017
In an email to The College Fix, Hunter, a student at Auburn University and the social media chair of the Auburn White Student Union, said that the campaign "was organized as a response to the anti-white vitriol that is seen far too often these days."
"The overarching idea for the campaign was quite simple – post an innocent pro-white message which states a simple truth that anyone whom doesn't hate white people agrees with: 'It's Okay to be White,'" Hunter told The Fix. "Because of this simple value statement, it is easy to identify that anyone who disagrees as prejudiced against white people."
Hunter declined to give his last name.
When asked about the response that has ensued from the campaign, he said "we condemn any outrage caused by the signs as hate against white people."
"If the signs had said 'It's Okay to be Black,' anyone outraged by that wording would be labeled a racist. Yet somehow prevalent there is a double standard which makes 'It's Okay to be White' an offensive statement. We must work to destroy this unhealthy double standard," Hunter said.
In addition to campuses, the flyers were found hung around cities as well, including New Orleans; Cambridge, Massachusetts; and Rocky River, Ohio, the Washington Post reported.
To some extent, the campaign has prompted conversation on the notion of whether it's okay to be white. Fox News host Tucker Carlson chimed in on the campaign by wondering what is the "correct position?"
"That it's not okay to be white? Being white by the way is not something you can control. Like any ethnicity you're born with it which is why you shouldn't attack people for it and yet the left does constantly in case you haven't noticed. So who's sowing racial division here? They ought to stop. These things never end well," Carlson said.
MORE: 'Okay to be White' stickers pop up at Harvard; Law School dean calls them a 'provocation'
Like The College Fix on Facebook / Follow us on Twitter