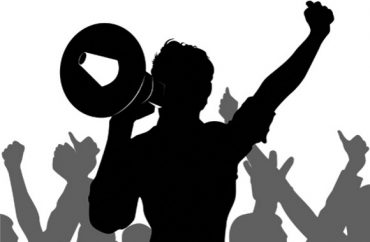 Over 100 students at the University of Mississippi occupied the Lyceum yesterday, the oldest building on campus, to protest the insensitive/inciting comments of a fellow student, and the lack of "sufficient" administrative response.
Student Jordan Samson had posted a comment on a Facebook thread in response to the ongoing protests/riots in Charlotte, NC: "I have a tree with enough room for all of them if you wanna settle this Old West style," a rather obvious allusion to lynching.
Self-anointed arbiter of all things racial Shaun King soon saw the thread, and he promptly tweeted about it:
Hey @OleMissRebels.

Is Jordan Samson still a student there? Just curious. His Facebook post on lynching people is bad.

CC: @OleMissPolice pic.twitter.com/WYJ35dnrse

— Shaun King (@ShaunKing) September 23, 2016
The Daily Mississippian reports that students (and others) quickly demanded action be taken against Samson. Chancellor Jeffrey Vitter's initial response also drew anger:
"Don't you (removed explicative) dare sugar coat racist white threats. I do not feel safe on this campus. Do you even care?" tweeted sociology major Dominique Scott said. "Does my Black life matter to you? Or my Black history? YOUR Black history."
University NAACP President Tysianna Marino said the ease with which the student referred to something historically used to dehumanize African Americans was disgusting. Marino said the NAACP will respond if the university "allows this to go unpunished."

"At the moment we just want to know what the university is going to do," Marino said. "If they do nothing, we will absolutely respond. We're going to give the chancellor the opportunity to respond." …

MORE: U. Mississippi marching band drops 'Dixie' from game day playlist

After nearly five hours of occupying the Lyceum on campus, the UM NAACP finally got an answer from Ole Miss Chancellor Jeffrey Vitter.

More than 100 students attended the occupancy, including the president of the Associated Student Body, Mr. and Miss Ole Miss, as well as numerous members of other student campus groups like Pride and Students Against Social Injustice.
Vitter's statement following the meeting with students says in part
"To be clear, we condemn the recent social media post by one of our students that referenced lynching. In light of our country's history, that comment can only be seen as racist, offensive and hurtful, especially to members of our African American community. There is no place in our community for racist or violent acts."
He did not mention any action which yet might be taken against Samson.
In a related matter, earlier this week Professor Glenn Reynolds of the popular blog Instapundit was briefly suspended from Twitter for tweeting "Run them down" in response to a local news station's tweet about Charlotte protesters stopping traffic and surrounding cars.
Reynolds also was suspended from USA Today, to which he contributes columns, and is under investigation by the University of Tennessee, where he teaches.
In a statement published in USA Today, Reynolds explained what he had meant by the tweet, which was already patently obvious to many: that "drivers who feel their lives are in danger from a violent mob should not stop their vehicles."
Read the full DM article, which includes Chancellor Vitter's statements.
MORE: That's racist: University of Mississippi e-mail domain
MORE: Board of Trustees chairman in hot water for 'insensitive' tweets
Like The College Fix on Facebook / Follow us on Twitter
IMAGE: Shutterstock