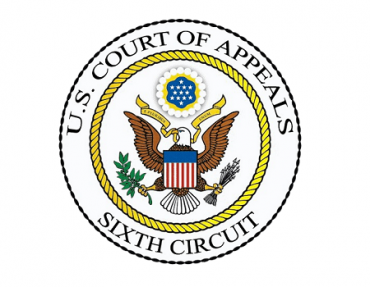 When the Sixth Circuit Court of Appeals overturned Michigan's ban on racial preferences the Friday before Fourth of July weekend, its decision was met with a torrent of criticism—even from some who opposed the ban. In a scathing editorial, The Detroit Free Press said the decision was "almost certainly headed for the legal trash heap."
Others have pointed to the Sixth Circuit court's history of controversial rulings in favor of affirmative action, including allegations of ethical violations on and off the court.
"I don't think it's a coincidence that there has been all of these backroom deals and legal wrangling, specifically with his court," said Jennifer Gratz, an activist who worked on the campaign to approve the ban on racial preferences in 2006. "Now they've taken up this issue and made this ruling that is not based on any sound constitutional premise."
Judge Julia Smith Gibbons, the lone dissenter in the recent ruling, was once a victim of misbehavior on the part of pro-affirmative action activists. In 2002, two aides to Senator Ted Kennedy wrote a memo encouraging him to delay Gibbons' confirmation to the Sixth Circuit until after the court had reached a decision in an ongoing affirmative action case, Grutter v. Bollinger. The 5-4 decision upheld the University of Michigan Law School's race-based admissions system, and was reached before Gibbons was permitted to join the court.
Olati Johnson, one of the aides who wrote the memo, had worked as an attorney for the NAACP immediately prior to joining Kennedy's staff. Johnson had even served as a co-counsel defending an affirmative action program in a different Sixth Circuit court case.
According to the Center for Individual Freedom, which filed suit over Johnson's actions, Gibbons was considered to be a non-controversial choice for the court. Despite this, she waited 81 days to be confirmed. The average waiting period was only 33 days.
Gibbons' confirmation wasn't the only controversy. Judge Danny Boggs, a member of the Sixth Circuit court, wrote an unprecedented procedural appendix to his dissent in Grutter v. Bollinger alleging that Chief Judge Boyce Martin had manipulated the outcome of the case. Martin assigned himself to the panel that ruled on the issue—a move that was at odds with common procedures, according to George Mason Law Professor Michael Krauss.
"This is absolutely irregular — panel assignments are and must be made at random, precisely in order to minimize politicization of the judicial process," Krauss wrote in the National Association of Scholars Online Forum.
Martin also failed to notify two conservative judges that they were entitled to weigh-in on the final decision. Larry Purdy, a legal counsel for plaintiff Barbara Grutter and author of Getting Under the Skin of "Diversity": Searching for the Color-Blind Ideal, wrote that if just one of these judges had been able to participate in the decision, it may very well have come out the other way.
"Chief Judge Martin's conduct effectively precluded the participation of two then-active judges who were viewed as potentially sympathetic to Ms. Grutter's position," Purdy wrote.
Though affirmative action won another round at the Sixth Circuit earlier this month, the final outcome may be different than it was in 2002. The court's 2-1 ruling overturned a constitutional amendment—approved by 58 percent of Michigan voters in 2006—that prohibited publically-funded agencies from making race-based decisions. Judge R. Guy Cole's majority opinion held that the ban "unconstitutionally alters Michigan's political structure by impermissibly burdening racial minorities."
Purdy disagreed with this verdict, noting that a previous Sixth Circuit panel found that Michigan's ban merely prevented public universities from engaging in racial discrimination, which is precisely what Title VI of the 1964 Civil Rights Act requires.
"I cannot overemphasize the incoherence of Judge Cole's opinion," he said. "His ignoring this earlier holding by a different panel of his colleagues, given its straightforward logic, is bizarre."
Michigan Attorney General Bill Schuette has announced plans to appeal the ruling to the full Sixth Circuit court. Gratz and Purdy expect that the ban on racial preferences will ultimately be upheld.
Like The College Fix on Facebook / Follow us on Twitter