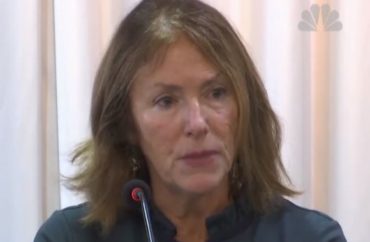 Her message for Kim Jong-un: 'See you in hell'
On the third anniversary of the passing of her son, Otto, Cindy Warmbier took part in a video conference Friday in which she called Otto "the face of North Korean brutality."
In the emotional hour-long interview sponsored by the Committee for Human Rights in North Korea, Warmbier discussed her feelings about President Donald Trump, what it was like having a son being held captive in a foreign land, and how she tries to keep Otto's memory alive.
The call came one day after the U.S. Senate unanimously passed a resolution authored by Sens. Rob Portman (R-Ohio) and Sherrod Brown (D-Ohio) honoring Otto and calling for further sanctions against North Korea.
Warmbier called the resolution a "beautiful remembrance of Otto," noting that Portman himself came to their house to present she and Fred with a copy.
Shortly after Christmas in 2015, Otto Warmbier, a 21-year old student at the University of Virginia, joined a group of fellow college students for a brief trip to Pyongyang, North Korea's capital.
After being apprehended on trumped-up charges of stealing a North Korean propaganda poster, Warmbier was tried and sentenced to 15 years in a prison camp, then mysteriously slipped into a coma.
After his release in 2017, Warmbier's comatose body was returned to his family in Cincinnati, Ohio. Soon, his mother, Cindy, and father, Fred, ordered his feeding tube removed.
Just exactly what happened to Otto while in North Korean custody remains a mystery, but Cindy Warmbier is convinced her son was "murdered" by Kim Jong-un's regime.
On Friday's video call, Warmbier said in the wake of her son's death, she expected more to be done politically.
"I am still waiting," she added.
Warmbier noted that when she and her husband first heard that their son had been detained in North Korea, she found out that there was no program in place for families in their situation, so they hired a private law firm to help them through the process. At the time, she said the U.S. State Department tried to play the "guilt card" on her, asking her why she would let Otto go on the trip.
Soon, she said, the family met politicians from both parties who were receptive to their cause.
Warmbier said U.S. Ambassador to the United Nations Nikki Haley was especially helpful, telling her she had to "stand up" to the Kim family.
"If you act afraid, they will come full force," Warmbier remembered Haley telling her.
"So I think as long as we keep standing up publicly, and encourage other people to, they will stop using fear as a deterrent to speaking out," Warmbier said.
She also noted Vice President Mike Pence has been "very supportive" of her family.
But when it comes to President Donald Trump, Warmbier's feelings are far more mixed. While she conceded nobody but Trump could have gotten Otto home, she said her feelings have consistently been hurt when Trump has called Kim Jong-un a "fine person."
She told the story of attending a dinner with Trump at which the president kept talking about how much he liked Kim. She said Trump is "naïve" about the ability to work with the Kim regime. But she also noted that neither President Obama nor Vice President Biden reached out to their family when Otto initially disappeared.
Feeling betrayed by some politicians, she said she is taking her activism "out of the government realm."
She said she couldn't watch the videos of Otto (pictured) during his show "trial" in North Korea because she could see that her son was under stress.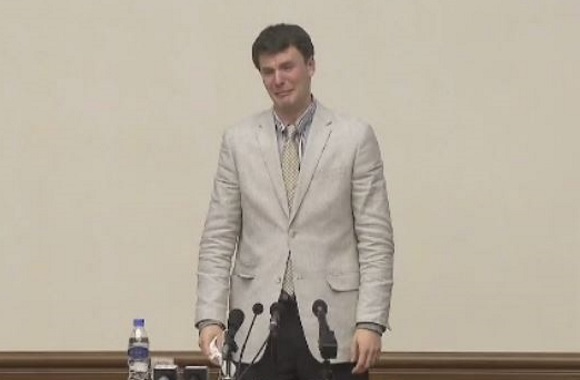 "A mom knows when something bad is happening," she said, saying she had only recently stopped punishing herself.
Warmbier said she is still "winging it" when working to keep Otto's memory alive. She said she clicks "like" on everything on Twitter that is anti-North Korea. She counseled anti-North Korean activists to ignore the issue of Kim Jong-un's nuclear capabilities, as "that makes them feel powerful."
Instead, she urged activists to talk about how "shitty" North Korea is, specifically the concentration camps they run that allegedly house over 120,000 people. Warmbier noted that she grew up Jewish, and as a child learned about the Nazi concentration camps – never believing her son could be in one.
At the end of her statements, Warmbier was asked if she wanted to leave Kim Jong-un with any specific message.
"See you in hell," she said.
MORE: Professor: 'Spoiled' Otto Warmbier 'got exactly what he deserved'
IMAGE: Facebook NBC screenshot
Like The College Fix on Facebook / Follow us on Twitter