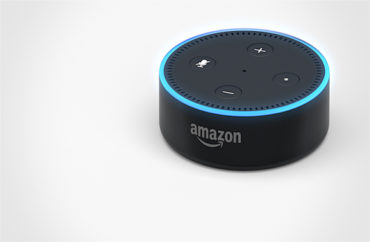 School won't say how much gadgets cost the university
A private university in Missouri that fired over 100 staff members amid budget woes in 2017 is now outfitting all of students residential spaces with personal smart speakers, and the school is refusing to say just how much it spent on the gadgets.
Saint Louis University in Missouri is outfitting all of its more than 2,300 student rooms with Amazon Echo Dots. The Echo Dot is "a voice-controlled speaker" that uses the virtual assistant Alexa to "play music, control smart home devices, make calls, answer questions, set timers and alarms, and more," according to Amazon.
"Every minute we can save our students from having to search for the information they need online is another minute that they can spend focused on what matters most: their education," Saint Louis University's Vice President David Hakanson said in an announcement.
The deployment of the Amazon devices comes after significant layoffs at the university last year. According to Fox 2 Saint Louis, in March of 2017, along with "massive budget cuts," Saint Louis University eliminated approximately 120 staff and administrative positions and removed 130 vacant positions. The cuts came following a $16 million deficit in the operating budget over the prior fiscal year.
Though the new Echo Dot program comes following those layoffs and budget crisis, the university would not reveal just how much it spent on the devices.
Reached via email, campus spokeswoman Nancy Solomon told The College Fix: "SLU generally does not disclose the details of these kinds of agreements."
Carrie Berbermeyer, another campus spokeswoman, also told The Fix: "We are not releasing specific costs to the public, but we can confirm that devices were purchased at a discount."
On Amazon.com, a new Echo Dot costs $49.99.
Asked about the long-term costs associated with the devices, Solomon said: "The cost to maintain this service is minimal and is covered in the IT budget without requiring additional funds from the University." Solomon told The Fix there were no more staff layoffs planned this year.
School officials did not respond to queries asking whether or not the school was still experiencing budget issues. In a report released in 2016, however, the university projected a significant budget shortfall for this year.
"Without implementing significant changes, an annual loss in the range of $10 to $20 million is projected through our bicentennial year (2018) and beyond," the report said.
According to the university's news service: "While other colleges have placed voice services in select student living spaces or are making them available to students upon request, as early adopter of this technology, Saint Louis University's approach is unique in that every student living space will come equipped with an Amazon Alexa-enabled device made available to students at no cost."
Tuition at Saint Lous University runs around $43,000 per year. Room and board rates in the school's residence halls and apartments range from around $4,700 to over $7,200.
MORE: College is too expensive—and it's not hard to see why
MORE: Documentary exposes vast wealth squandered on campuses
IMAGE: pianodiaphragm / Shutterstock.com
Like The College Fix on Facebook / Follow us on Twitter