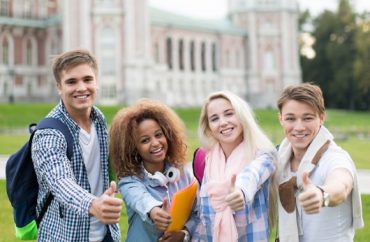 CLEP program streamlines college experience, reduce costs
As the cost of a college education continues to skyrocket, one online program offers a way for smart and savvy students to avoid amassing a mountain of debt.
The College Level Examination Program, a credit-by-exam program administered by the College Board, helps students avoid the time commitment and financial burden of taking required general education subjects that they mastered in high school, like algebra, calculus, biology, world language, U.S. history, government and others.
If students pass an online multiple choice, 90-minute timed test on the subject, they get the college credit for it, and some 2,900 colleges and universities accept the program, according to its website. The cost for a test can run from about $85 to $130.
The tagline for the program is "earn college credit for what you already know." Put another way, if a student passed about eight CLEP tests, they could theoretically complete their freshman year without stepping foot on a college campus and without garnering a huge tuition bill.
Yet according to word of mouth, many students don't know about the opportunity. It's been suggested that colleges have no incentive to tell students about what's affectionately known as "CLEPing" among some users.
In 2014-15, there were 132,658 test takers and 177,717 tests taken. In 2015-16, there were 133,658 test takers and 177,849 tests taken. And in 2016-17, there were 129,142 test takers and 170,618 tests taken, according to Jaslee Carayol, a spokesperson for the program.
One high school in Louisiana is reportedly having its students take CLEP exams to help them get an easy boost for college. Pre-med student Devanie Coombs said she recently took a CLEP math class to save time and money.
"Going to a private university, I saved around $5,000," she told The College Fix. "I am fairly good at math, and I was able to focus on my pre-med classes instead."
Carayol said the program helps streamline the college experience and reduce costs.
"One of the benefits of taking a CLEP exam is the time a student saves in earning a degree. For example, students can save more than 100 hours in course time and outside work by CLEPing out of just one course," she said.
She added the program is meant to complement, not replace, the college experience.
"[I]t complements students' college learning and helps shorten a student's path to degree while also providing the opportunity for students to get into their core major studies faster," she said.
CLEPing out of 15 credits saves students approximately $5,000, and even taking one exam could save an average of $1,200 at a public 4-year institution, according to the College Board.
That can be beneficial for traditional students as well as nontraditional ones, such as military members.
"So students who may not have been considering college and then earn credit by taking the CLEP exam realize they have the ability to succeed in college and are more motivated to follow through on going to college," Carayol said.
There are some challenges, however. Taking the test doesn't automatically mean all students pass. It can require preparation and study. Carayol said there various free and low-cost resources students may use to prepare.
MORE: A Solution to the Higher Ed Bubble Crisis
IMAGE: Shutterstock
Like The College Fix on Facebook / Follow us on Twitter