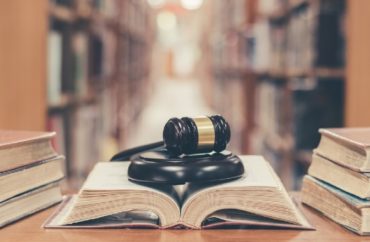 Professor Jonathan Turley says departments reach an 'ideological critical mass' that is hard to overcome
Only nine percent of law school professors identify as conservative, according to a recent study by Georgetown University's Kevin Tobia and MIT's Eric Martinez.
The study, which aimed to investigate law professors' beliefs surrounding the legal system, included questions regarding participants' demographics, beliefs about central issues of the law and views concerning specific legal theory issues.
Roughly 555 professors were recruited by email from the top 50 law schools, with an additional 112 partaking in a public version of the survey accessible through an online link. Of the sample of professors, however, only 9.1 percent identified as conservative, with 77.9 percent identifying as liberal.
The results of this paper are similar to those of a 2017 study that concluded 15 percent of law school professors were conservative.
The College Fix contacted Tobia and Martinez twice by email in the past week and a half to ask how they believe schools can make use of the study's findings, whether they personally believe the low number of conservative law professors is problematic and if schools should adopt hiring practices to better represent conservatives on their staff. Neither responded.
MORE: Democrats outnumber Republican professors 16 to 1 at UNC
Two law professors commented on the study to The Fix.
According to Jonathan Turley, a professor of law at George Washington University, there are a variety of factors that contribute to the lack of conservative professors at law schools.
Turley told The Fix that faculty can reach a tipping point where there is such an imbalance of liberals to conservatives and libertarians that it is hard to reverse the trend.
"For decades, faculties have gradually reduced the number of conservatives and libertarians through attrition and hiring practices," Turley wrote in an email to The Fix. "Once these faculties hit an ideological critical mass, faculties have served to replicate their ideological views."
He also said there is a "strifling atmosphere of intolerance and recrimination" that conservatives face at many schools, which he believes "makes faculty even less likely to self identify as conservative."
This perception of intolerance among law school staff is echoed by Alan Dershowitz, professor emeritus of Harvard Law School.
Though Dershowitz is a self-proclaimed "anti-Trump, pro-Biden liberal," he does not feel welcome himself at many law schools due to his opposition to race-based affirmative action in admissions, which he says is quite unpopular among law school faculty.
MORE: American Bar Association scraps proposed racial quote system
At the same time, Dershowitz does not believe the lack of conservatives is necessarily the problem. Rather, he said that " true, classical liberals" are being replaced with an increasing number of "woke, radical activists" on law schools' staff, in a phone interview with The College Fix.
In order to solve the problem of activist faculty members, Dershowitz says it will "require an effort to overcome the agenda" being pushed by them. This includes "advocating the end of meritocracy and the rule of law," two principles he defends in his recent book, "The Price of Principle."
In addition to the political affiliation results, the study also asked the professors' opinions on various issues regarding curriculum and legal theory.
One such question asked the participants to respond "yes," "no," or "maybe" to the statement "There are at least some universal human rights." About eight percent of respondents answered "no."
The study also investigated professors' views on which aspects of the law they consider to be central and which ones they believe should be.
They were given a list of various areas of the law and then asked to rate them out of ten in regards to two questions: "Currently, this is a central area within the legal academy," and "Currently, this should be a central area within the legal academy." If a particular issue gets a lower score it is considered not central to law and if it gets a higher score, it is more central.
In response to what currently is central, critical race theory and feminist legal theory both scored approximately 3.75. But when asked what should be central, both scored around 5 or more, outpacing  human rights.
MORE: Law school can be faster and less expensive former CEO argues
IMAGE: Chinnapong/Shutterstock.com
Like The College Fix on Facebook / Follow us on Twitter