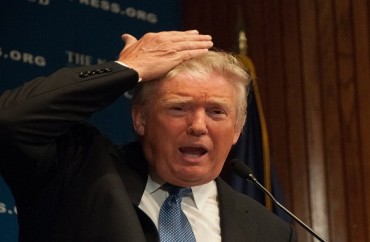 With the violent protests continuing in Portland, Oregon, some professors from the state's universities have zeroed in on President Trump and the state's history of racism as a catalyst.
USA Today's Jorge Ortiz sets it up: The "predominantly white city" might seem like an odd spot for protests against racism and police brutality, but take into consideration its past and a president who's "sinking in the polls and eager to rally his base." (He may want to take another look at that poll "sinking" claim.)
Ortiz's "experts" claim the "unrequested and unwelcome arrival" of federal officers in Portland "rekindled" protests which allegedly were "simmering down."
For example, the University of Oregon's Joseph Lowndes, a political science professor, said "I think Trump wants to have this open and showy use of force. In terms of a flagging presidential campaign, this is the way to fire up his base. It's not as if they're doing this on the sly. I think it's meant as a very public show of – the term he would use is 'dominance.'"
Lowndes contends Oregon's 1857 territorial constitution — which barred people of color from "coming within its borders" — along with other racially exclusionary measures, "kind of set the template" for what was to come, racially, many years later.
According to his faculty page, Lowndes' interests include racial politics and conservatism, and his mainstream media offerings frequently tie the two together. His upcoming book is titled "White Whale: Race, Populism and the Destructive Power of Middle America."
Christopher McKnight Nichols, who teaches history at Oregon State University and splits time between the school's base in Corvallis and Portland, said the long trail of discrimination in Oregon informed the protests in a liberal city long known for its activism.

He said the rallies had tapered down, describing them as "peaceful, benign and boring" – until the feds took action. Oregon Gov. Kate Brown told PBS the actions of "Trump's troops" were "simply like pouring gasoline on a fire."

Nichols said a fellow history professor from another college, Maureen Healy, was hit by one of the rounds fired by federal agents Monday night.

"There had been local activists who kept the fire burning, and now with the federal agents coming in, we've seen a reignition of the fire," Nichols said. "I mean that both literally in terms of the unfortunate violence, but also figuratively because people are getting more excited and enthusiastic."
Nichols is an elected lifetime member of the Council on Foreign Relations and serves as director of OSU's Center for the Humanities. He teaches courses on "isolationism and internationalism, religion and U.S. foreign relations, [and] intellectual, cultural, and political history."
MORE: Several historic statues toppled, removed from Oregon campuses
MORE: U. Oregon, Oregon State drop 'Civil War' from sports rivalry description
IMAGE: Shutterstock.com
Like The College Fix on Facebook / Follow us on Twitter