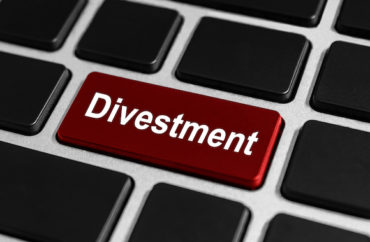 The Ohio State University Undergraduate Student Government passed an "emergency" resolution on Wednesday calling on the school to divest from two companies which do business in Israel.
According to The Lantern, the vote was via secret ballot and passed 14 votes to 8 with two abstentions.
The companies in question, Caterpillar Inc. and Hewlett Packard, were targeted by the USG for, respectively, providing equipment to "construct a separation wall in the West Bank and demolish Palestinian homes" and providing military technology to the Israeli government.
"By investing in such companies, The Ohio State University implicitly condones and profits from the decisions and actions of these companies, and, as such, becomes guilty by association when such consequences from the actions and divestments of these companies, including, but certainly not limited to, the killing of innocent civilians," the resolution reads.
Muslim Student Association Co-President Khalid Dada said the resolution's passage "feels great."
Angelina Atieh, president of the OSU chapter of Students for Justice in Palestine, added that she was "elated" as student activists have tried to pass Israel divestment measures "for a decade."
MORE: 'Zionists' have 'unquenchable thirst for Palestinian blood': Duke speaker
"To get the stamp of approval from the student body that human rights violations in Palestine are wrong, and we condemn those and we want the university to do something about it — that cannot be understated," Atieh said. "And this is the ultimate show of approval and support to the Palestinian community. And to me, as a Palestinian, it means the world."
Sydney Goldberg, a fourth-year in occupational therapy, said she is worried about how the approval of this bill will affect the treatment of Jewish students on campus.

"The lives of every single Jewish student on this campus has now been put at risk. Anything that comes of this falls on the responsibility of this general body," Goldberg said.

Following the passing vote, some students stayed to celebrate, while others left Independence Hall shortly after.

Jeremy Davis, a third-year in information systems and an alternate USG senator, said he opposed the bill because he felt it did not address the conflict's issues.

"I don't feel that divesting from companies is being pro-solution," Davis said. "Why not invest in Palestinian companies to really boost their economy?"
In a statement, OSU spokesperson Ben Johnson said the university's endowment "is not funded with tuition or fees, and the university 'encourages students, faculty and staff to engage in discussion and debate.'" Johnson added that OSU "complies with all state laws regarding investments."
MORE: Anti-Israel professors load Israel-Palestine courses with pro-BDS authors: study
IMAGE: pichetw / Shutterstock.com
Like The College Fix on Facebook / Follow us on Twitter