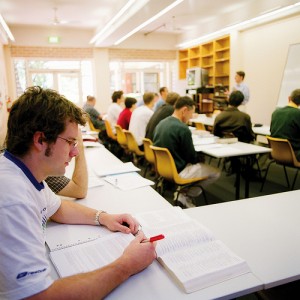 Perusing class schedules at universities across the nation illustrates that legitimate courses of study can be found among the hallowed halls of higher education, but there's plenty of fringe, questionable, biased or pointless classes peppered throughout. Here's a look at some of the more extreme examples of that from this fall's course catalogs:
Anthropology
Columbia University, UC Berkeley
Apparently hauntings and Satanic possession isn't just the darling of Hollywood right now. Some colleges' anthropology departments have taken a liking to the subject this fall. Columbia University offers a course called "text, magic, performance." Its description states the class:
"pursues interconnections linking text and performance in light of magic, ritual, possession, narration, and related articulations of power. … Domains of inquiry include: spirit possession, trance states, séance, witchcraft, ritual performance, and related realms of cinematic projection, musical form, shadow theater, performative objects, and (other) things that move on their own, compellingly. … Retraced throughout the course are the uncanny shadows of a fully possessed subject."
Not to be outdone, Berkeley offers an anthropology course titled "the psychic life of history, culture, illness and violence." Its course outline notes:
 "… We will devote a particular attention to hegemonic discourses on the body, health and suffering, as in the case of new psychiatric categories such as 'trance and possession disorder,' … we will further compare the dialectic and tension around the phenomenological experience of being 'at-risk,' between the 'magical world' and 'psychopathological thought,' pondering the experience of 'cultural' and 'psychic apocalypse.' "
A prerequisite to enroll in either class is the instructors' permission. That, and maybe a crucifix and some holy water.
English
Wesleyan University
An English class that doubles as a feminist/gender/sexuality studies course on this Connecticut campus is called "Queer Time: The Poetics and Politics of Temporality." It promises to explore "relationships among textuality, temporality, and sexuality," and draw on "works by directors of the new queer cinema of the 1990s" and "introduce students to examples of recent theoretical writing on 'queer temporality,' " according to its course description. One of the books students enrolled in the class will read is called "Fun Home: A Family Tragicomic," an autobiographical tale that features themes such as pedophilia, suicide, death, homosexuality and depression.
The class syllabus also calls for "intensive participation" among enrolled students. I'm sure they'll have plenty of uplifting discussions.
Economics:
University of Vermont
The slant of economics professors at the University of Vermont isn't hard to determine when one peruses their department's course catalog. There's "capitalism and human welfare," an interesting combination, which "investigates theories of growth of the capitalist economy and the historical process of the ascendance, domination, and recent relative decline of the U.S. economy." (No course on communism and human welfare, by the way). A "labor, race and gender" class touches on issues such as unions, as well as "discrimination, economics of education, and other aspects of the economics of gender and race." (I'm sure white male executives will make out like bandits in that classroom).  Next comes "African-Americans in the U.S. economy," which offers an "examination of historical and contemporary inequality between whites and blacks, focusing especially on labor, housing, and credit markets." (I'm pretty sure we know where they're going with that one). And finally, there's "economics of gender," which tackles "how gender differences produce different economic outcomes for women and men in work, leisure, earnings, poverty; explores effectiveness of policies to overcome gender gaps." (Hey, the 80s called; it wants its hot-button issue back).
Ethnic Studies:
Amherst College
The Black Studies department at Amherst College offers plenty of options for students, as long as they are not interested in learning about the contributions, accomplishments or opinions of black conservatives such as Clarence Thomas, Ward Connerly, Alan Keyes, Thomas Sowell and others. The department's course topics run the gamut, from racism and the slave trade to revolutions and the Black Arts/Black Power movement. Specific topics tackled by the department include: music, Haiti, race and politics, African art and Caribbean poetry. One famous black historical figure even gets his own class. Nope, not Dr. Martin Luther King Jr. —- it's controversial civil rights activist W.E.B. Du Bois.
First year/freshmen seminar
University of California, San Diego, Swarthmore College
The freshmen or first-year seminar consists of small class sizes, they're discussion-centric, and the topics are typically obscure, philosophical elective-type offerings. While there are many first-year seminars offered at campuses across the nation this fall that border on the absurd, two in particular stood out from the crowd.
"Interrogating gender: Centuries of dramatic cross-dressing" is offered this fall at Swarthmore College. It's set to tackle such pressing matters as:
"Do clothes make the man? Or the woman? Do men make better women? Or women better men? Is gender a costume we put on and take off? Are we really all always in drag? Does gender-bending lead to transcendence or chaos? These questions and their ramifications for liminalities of race, nationality and sexuality will be our focus in a course that examines dramatic works from The Bacchae to M. Butterfly."
Inquiring minds want to know. On the other side of the country, UCSD offers its freshmen "God, sex, chocolate: Desire and the spiritual path." The course description asks:
"Who shapes our desire? Who suffers for it? Do we control our desire or does desire control us? When we yield to desire, do we become more fully ourselves or must we deny it to find an authentic identity beneath? How have religious and philosophical approaches dealt with the problem of desire?"
I bet the professor won't have to pull teeth to get students to finish their homework.
Religious Studies
The vast majority of mainstream universities across the nation get an "F" —- for failing to offer one course focused on the teachings of Jesus Christ, by far the most influential religious figure in the history of the world. He's lucky to get a passing mention in departments choked with subjects that tackle almost anything and everything but Jesus directly. Islam, Buddhism, Hinduism, post-modern religious thought, Jihad, existentialism, yoga as religion, asceticism, alchemy, Judaism, Catholicism, church-state relations, and so on and so forth.
So let's see, universities can tackle: demonic possession, "queer time" literature, anti-Capitalist screeds, the Black Power movement, a history of cross-dressing and unfettered human desire, among a host of other obscure or controversial topics —- but studying the most influential figure to walk the face of this Earth? Heavens, no!
Click here to Like The College Fix on Facebook.
IMAGE: SMBC College/Flickr
Like The College Fix on Facebook / Follow us on Twitter